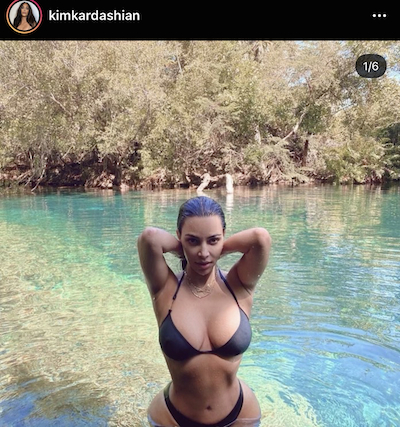 Kim Kardashian set the Internet on fire when she posted a photo of herself half-immersed in the azure-green waters of the Blue Lagoon. No one knows if it is the Blue Lagoon in the Dom Rep or Jamaica.
Users went gaga over the photos, and males especially drooled over her Bo Derek-like pose as it is public knowledge that Kimye is now kaput, and the stunner is now newly single.
Kim Kardashian West filed for divorce from Kanye West after 6 1/2 years of marriage, court records show. Kardashian is seeking joint custody of the children and her filing states the couple have a prenuptial agreement that will determine how their assets will be divided. It cites irreconcilable differences for their breakup and does not list a separation date.
Their four children are all 7 or under: North, age 7, Saint, age 5, Chicago, age 3, and Psalm, 21 months old.
The couple began dating in 2012 and had their first child in 2013. West proposed later that year using the giant screen at the empty waterfront ballpark of the San Francisco Giants, and the two married May 24, 2014, in a ceremony at a Renaissance fortress in Florence, Italy. In October 2019, the "Jesus Walks" rapper, 42, performed in Jamaica — though the event is being dubbed as his Sunday Service — in Emancipation Park in Kingston. The service was free and open to the public.
The couple were also reportedly in Jamaica last year as the COVID-19 pandemic raged all over the world.
So which Jamaican male is brave enough to "shoot their shot" in Portland? We shall see.