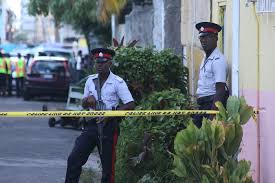 This one name instant karma.
A teenage shooter got a dose of instant karma from the universe when he ended up bloodclaat paralyzed after he went on an ops and shot a man in the neck.
The shooter, who is only 18 years old, allegedly squeezed off a shot in a man's neck in St Mary last month, but the victim reacted quickly and grabbed the gun. A tussle ensued and the victim was able to fight with his attacker, and the gun went off, leaving the young thug's chest in a swamp of red muck. The attacker was reportedly left paralysed.
Miguel Francis, otherwise called Michael Ewan, a carpenter from Greenwich Street, Kingston 14, and Dover district, slapped with several gun-related charges was charged after a man was shot and injured on July 17, in Dover district in Annotto Bay last month.
Francis was reportedly shot during this same incident, which resulted in him being paralysed from the waist down. He was held after he turned up at hospital with a gunshot wound and was pointed out by the man who was earlier shot and injured.
He is charged with wounding with intent with the use of a prohibited weapon, unauthorised possession of ammunition, possession of a prohibited weapon and using a firearm to commit a felony.
Reports were that around 10:00 pm, a construction worker was at home when he heard a strange sound outside and went to investigate.
It is reported that the construction worker was approached by a gunman who shot him in the neck. The injured man then held onto the firearm, and a struggle ensued, and another round was discharged.
The injured construction worker ran off and collapsed on the roadway and was assisted to the hospital, where he was treated and admitted in serious condition.
The police were summoned to the scene of the incident, and while searching the crime scene, they found Francis about 15 metres away, suffering from what appeared to be a gunshot wound to his chest.
He was rushed to the same hospital for treatment.
While there, he was pointed out by the construction worker as the shooter.
He was taken into police custody, treated and admitted.