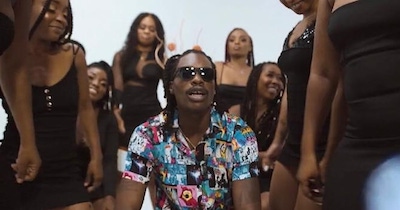 Montego Bay-born ZJ Liquid is gearing up for the release of a new EP, 'Point of View', which will be released in the second week of August.

"The EP will be dropping within the next two weeks with new songs. I am working with Seanizzle, Dane Ray, I produced three of the tracks myself, Octane produced a truck, and the EP will feature collabs with Beenie Man, Dane Ray, Dean Fraser, K Coneil," ZJ Liquid said.

The EP is an unapologetic take on what 21st century music represents to the deejay-disc jockey-producer, and how he has been able to redefine the dancehall space.

"Well, the title of the EP means it's just my music from my view, my vibes…I am doing higher-quality, higher-level and different vibes of music but Iam still representing for the ladies. I have grown and I am more exposed to a wider variety of music right now," he explained.

The well-known disc jockey has not really been performing and will not be taking any bookings for the foreseeable future as the world continues to battle with the coronavirus pandemic. So he is relying on music videos to promote his songs in the local and international marketplace.
He also released a new video for a single called 'Never Grow It Out', produced by Big Laugh, on July 31st. 
"The video has been available on all digital platforms and the response has been great. This song is definitely fi the ladies. They can get groovy with it whether at home, at the club, at the gym or even in their cars. The girls dem a mine," ZJ Liquid joked. 
ZJ Liquid has previously heated up the dancehall with the conscious single, 'Life in the Ghetto'.
The disc jock has for almost two decades, built a brilliant career as one of Jamaica's top selectors/radio disc jockeys/producers/recording artistes. He was born and raised in St James, where that tourist mecca is located, before relocating to Kingston in 2002.

Like most radio DJs, ZJ Liquid (given name Michael Brissett) got into music by 'spinning' on hometown sound systems, first as a DJ at Pier One (in Montego Bay) alongside Jason Russell on a 'sound' called In Excess.
ZJ Liquid got his first break in radio when he joined Hot 102 FM as DJ Lippo from 1999–2000. Shortly after, his big break came when he was selected by Karl Young to work on ZIP FM.
He founded H2O Records in 2004 and became a prominent producer, who has worked with the likes of Kranium and Tifa. In 2017, he did a 'Black and White' Vybz Kartel album. In 2018, he released his first EP, the aptly entitled 'Mobay Son' on the H2O Records/Johnny Wonder 21st imprints with collabs with Tifa, Demarco, Konshens, and Noah Powa. He has performed in countries such as the USA, Belgium, Slovakia, Spain, The Netherlands, and Austria.

Fans can keep up with him by downloading his mobile app or follow him on Instagram: @zjliquidh20; Twitter: @zjliquid and Facebook: ZJ liquid.