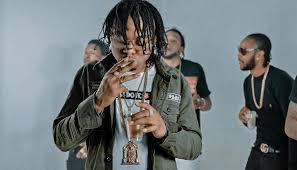 Dancehall artiste Rygin King is reportedly "recuperating well" following another successful surgery performed by top flight surgeons in the Corporate Area. 

"Rygin King did an important and very sensitive operation last Wednesday. The surgery was performed at an undisclosed location in the Corporate Area, and now he is recuperating well. He has a far way to go but he is coming on well, we just try to raise his spirits and keep him positive," a source told one876.

The  25-year-old Rygin King, born Matthew Smith of Norwood, St James, was shot by unknown assailants in Westmoreland, and originally admitted to the Sav-la-Mar Public General Hospital on June 28th. He was airlifted a few days later to the Falmouth Hospital. Since then, he has done numerous transfers to various medical facilities all over the island to access top notch doctors as he continues to trod an arduous road to recovery. 

"He wants to thank the general public, the fans and members of his family for all their heartfelt prayers. He thanks the medical staff at the Savanna-la-Mar hospital, the Falmouth Hospital, the intensive care unit at the Kingston Public Hospital for their professionalism, and tireless efforts to help him recover, everyone from the porter to the security personnel to the nurses and doctors. However, he needs more prayers," the source added. 

During his time of convalescence, Rygin King has been visited by several high-ranking government officials such as Minister of National Security, Dr. Horace Chang, Minister of Health Dr. Christopher Tufton, and Minister of Sports, Youth and Culture  Olivia Grange.  

"Almost every morning, 'Babsy' Grange calls to check up on him. He just wants to thank everyone for their well wishes and continued prayers," the source said. 

 Rygin King rose to prominence in 2018 and is known for singles such as 'Tough', 'Change' and 'Ruption'.