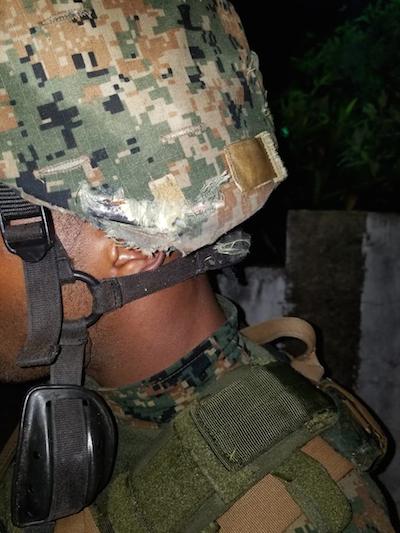 A joint military-police operation killed six heavily armed men in May Pen, Clarendon.
It is reported that a 15-member joint police/military team was carrying out an operation in Buzz Rock, Clarendon when a gun battle broke out between them and gunmen.
During the attack, a JDF officer was grazed by a bullet on his right shin, and another, damaging his helmet.
Reports are that, during the exercise, the military came under heavy gunfire from gunmen within the area. The Military returned the gunfire, and six gun men were found suffering from gunshot wounds after the exchange. This exchange of gunfire lasted for approximately an hour.
Three (3) high powered rifles were subsequently seized when the shooting subsided which included an AK 47 assault rifle, an M16 rifle and a shot gun along with several ammunitions. The police were then summoned and the six victims seen in nearby bushes lying with gunshot wounds to their body areas. However, two Military personnel had received minor injuries and the bodies of the six men taken to the May Pen hospital where they were all pronounced dead.