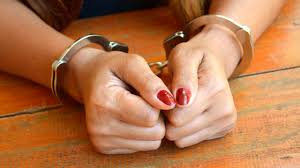 WESTMORELAND, Jamaica — The Westmoreland police have arrested and charged a 40-year-old woman who was seen in a viral video on social media mercilessly beating a man with a machete during a dispute.
Shernette Althea Beckford, a vendor of aPullet Lane Line Piece, Petersfield address in the parish was arrested and charged on Tuesday for the offence.
The woman, who is known to the man, was arrested Tuesday following the receipt of a report on February 13 for the incident which took place on February 7.
In the viral video, the man who is slim and tall was seen being beaten by Beckford, who is much bigger than the victim. The victim received hard slaps with a machete all over his body to include the back of his head and his hands as he attempted to ward off the blows being inflicted.
Beckford could be heard in the video accusing the victim of "carrying" her name elsewhere as she inflicted the blows. The man denied her claims.