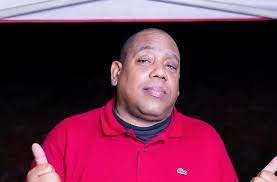 Minister of Culture, Gender, Entertainment and Sport, Olivia Grange weighed in on the life of disc jockey and music producer Arif Cooper following his death on Sunday.
Cooper died suddenly while playing at a 90s party early in the morning at the Police Officers Club in St Andrew. Spectators and other personnel attempted to resuscitate him but were unsuccessful. Eventually, cops and paramedics fashioned a makeshift gurney to transport him to the hospital, but he was eventually pronounced dead at the UHWI.
In a statement, Grange said she is "deeply saddened" by Cooper's passing.
"It is so sad that another of our outstanding personalities in the music industry has left us suddenly and at such a relatively young age," the minister said.
"We saw Arif following his famous father, Michael 'Ibo' Cooper, a founder of Third World Band, into music and making his own name here in Jamaica and on the international scene where he entertained audiences in a number of United States cities and in Japan.
"Arif's versatility was one of the huge features of the man and was greatly admired by his colleagues in the music industry, especially those whose careers benefitted from his talent, and by his fans. He will be sorely missed," Grange said.
Arif's father, Michael "Ibo" Cooper from Third World, introduced him to the music industry from a young age, putting him through piano lessons, exposure to a large record collection as well as allowing him access to watch musicians such as Stevie Wonder, Bob Marley, Bruce Springsteen and Sting in various studio and shows.
He was a founding member of Syndicate Disco from 1992 to 1997 and later established himself as an international DJ, playing at clubs, parties, and shows all over the world. He worked at FAME for over two decades and that's where he met his future wife, Simone Clarke.
Simone Clarke was married to Arif Cooper but the two have since divorced. She is a consummate communication specialist, with over 25 years of broadcast experience, and over a decade of corporate communication experience.
After graduating from the University of the West Indies, Mona Campus with a First Class Honours Degree in Media and Communication in 1997, she began working at Television Jamaica, where she is the host of the morning show Smile Jamaica.
Supa Coop forged a meteoric rise as a music producer, creating several hits.
He also produced Vybz Kartel's Forever, Credit Alone Done, Party Mi Say, In Love With You, and Jamaica Mean Time, as well as TOK's One World and Unknown Language, and Alkaline's Wifey and Hypetracks.
Arif shared his last piece of work on Saturday morning on his Instagram page, a collab with Reggae artist Ginjah, titled So Much To Give Thanks For, with the caption "Always Grateful, Always Thankful #MostHigh.