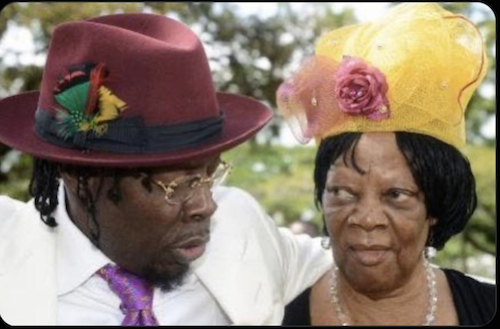 CLAUDE MILLS/STAFF REPORTER
Multi-Grammy winning artiste Shabba Ranks is mourning the death of his mother, Constance Christie, aka 'Mama Christie'.
The hardworking mother of seven children was reportedly 81 years old. Word of her death spread like wildfire on social media.
Several persons, include Dexta Daps, tweeted their condolences. Dexta Daps wrote to his 1 million followers: "DK Y GOD😭😭😭😭😭😭😭😭😭😭😢😢😢😢😭😭😭😭😥😥😥😭😭😭😭😭😭😭😭😭😭😭😭😭😭😭😭😭😭😭 I'M 💔 😭😭😭😭😭😭😭😭😭
MAMA MAMA MAMAAAAAAA….😭😭😭😭😭😭😭😭😭
THIS IS NOT HAPPENING 😭😭😭😭😭😭😭😭😭😭😭😭"
Bounty Killer wrote on his IG page: Condolences goes to @shabbaranksofficial and his family on the passing of his mother the well beloved Mama Christy rest well Aunty sad street!
🙏🏾🕊🕊🕊🙏🏾
Shabba Ranks always lauded his mother's influence on his life, name-dropping her during numerous iconic performances and media interviews where he bigged up 'her techni-colour rice and peas'. Shabba Ranks sang a famous line in a King Jammys Production song where he chanted: 'love mi madda bad, but mi no put her in front a God'.
In her youth, she was a driver employed to the now-defunct Jamaica Omnibus Service (JOS) which was wound up in 1983.
"I was always the head of the house. You look at me now, you have seen an old woman but when I was young, I was very active. I was a driver, one of the first female drivers that came out from JOS. That 35 ft that you see the men pushing down, this little old lady that you looking at did it," she told the Jamaica Star four years ago.
While she didn't want to say too much about the relationship she shares with Shabba fearing that the other children may get a little jealous, Mama Christie admitted that the two shared a bond, even saying that "Shabba is mentally connected to her".
"I never have to call Rexton for anything. Whenever I'm in need of something, Rexton always know about it, even before I say it to him," she told a reporter.
Shabba was one of seven children conceived between Ivan Gordon and Constance Christie. The couple never married, but had joint aspirations that their son would be a pilot. Mama Christie, known as one of the mothers of her Seaview Gardens community, and was known as a giver, as evidenced by Dexta Daps' hit song, 'Shabba Madda Pot'.
In an interview with The Gleaner, Mama Ranks spoke about her long standing reputation for feeding the hungry in her community of Seaview Gardens, Jamaica. Mama Christie also made a cameo in the 'Shabba Madda Pot' video, wearing a Dexta Daps T-shirt that also pays tribute to her legacy with the picture of a steaming pot.