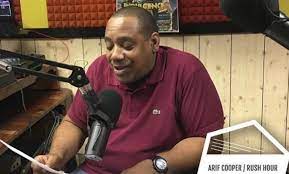 Popular radio broadcaster Arif Cooper reportedly collapsed while on the job at a party at the Ranny Williams Entertainment Centre in St Andrew early Sunday.
He was taken to hospital where he was pronounced dead.
The son of Third World founding member Michael 'Ibo' Cooper, Arif was introduced to music at an early age and began DJing at house parties in the early 1990s.
For more than two decades, he served at FAME FM as a broadcaster and DJ. He was a founding member of Syndicate Disco in 1992-1997 and after leaving went on to establish himself internationally, DJing all over the world at clubs, parties and shows in New York, Miami, Los Angeles, Houston, Atlanta and Japan. He has held residencies at Club Mirage, Jamaica and Club Soul, Atlanta and also toured with artists such as Sean Paul, Voice Mail, and Alaine.
Fresh Ear Productions was founded in 1997 when, after working on the development of 2 Hard Records, Cooper re-entered the world of production. Additionally, in 1998 he joined FAME FM in the capacity of broadcaster/radio disc jockey where he still holds this position.
Arif is also the major force between the street event 'Fresh Fridays' circa 2010-2014. He has played key roles in the development and careers of Vybz Kartel, Sean Paul, Tami Chynn, Jah Cure, Alaine, Elephant Man, Baby Cham, Demarco, Aidonia, Konshens, Wayne Marshall, Christopher Martin and Charly Black.
Cooper is also known for creating the Guardian Angel, Relationships, Worldwide, and New Money rhythms.