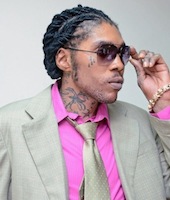 Since Tuesday the superintendent at tower street adult correctional centre, Superintendent Campbell has given strict orders to have Adidja Palmer aka Vybz Kartel under 23 hours lock down in a poorly ventilated cell despite his failing health at the tower street adult correctional centre as a form of apparent draconian style punishment.

Reports are that a cell phone was found on the block in the facility which houses over 1,700 inmates. Kartel put on 23 hours locked down because the instrument was allegedly found on the block. But strangely enough, in addition to the 100s of cell phones found daily at that institution and thousands at lock ups across the island, based on sources at the prison, the supt seems to have ill will against kartel. "The supt no like kartel cause him badmind di dj, him always a talk bad bout di man and teacha don't even see him. One ting , kartel no look pon people. So dat make nuf man no like him. Dem say him too hype.." One source said

"The dj have thyroid and since the lock down he hasn't been breathing properly because he is forced to be locked down in a cell with out proper ventilation all day in the summer heat with the dust and salt breeze from the nearby sea".

Said another source in the prison. "Super a carry feelings fi kartel because a nuf notorious man in the yard get ketch wid phone every day and is not a problem so how you find phone on kartel section and treating the man like that".

Kartel' s lawyer is currently filing a claim before the court in the matter and also his doctors are looking into how to remove the entertainer from that section completely.