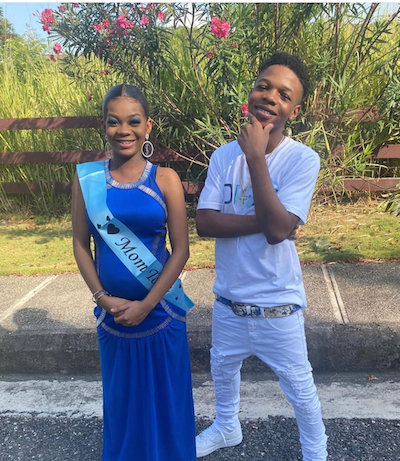 Is Addi now a granddaddy?
Incarcerated dancehall artiste Vybz Kartel ended all speculation as to whether he would soon become a grandfather with a post on his Instagram account that announced: 'Congrats to me son and daughter and extended family #newgeneration #gazanation #whovex #gazarmy #1don".
The post attracted over 2,300 comments at the time this article was published and over, 66,000 likes. Gaza nation celebrated the pregnancy and congratulated the Teacha.
"Congrats to you on the new blessings and addition to the Gaza Fam," one user said.
Yesterday, the entertainer's son, Ahkeel Palmer shared a photo online, which was soon deleted, of him standing next to a pregnant young woman. An Internet troll grabbed the photo and re-shared it on Twitter, igniting a firestorm of speculation as to whether Vybz Kartel was soon to have another member added to his extended Gaza family.
The young woman is seen clad in a blue gown with a sash bearing the words, 'Mom to be". Little Addi is pictured posing next to the woman, clad in full white, his hand on his chin and a knowing smug smirk on his face. The pictures were perhaps taken at a baby shower as Little Addi and the young woman are pictured cutting a cake together with a banner in the background that shouts 'Oh Boy'.
Little Addi graduated from Stella Maris Preparatory five years ago in 2015, and attended Jamaica College alongside his older brother.