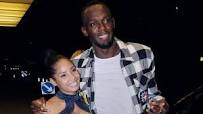 World record holder for the 100 and 200 metres Usain Bolt and his partner Kasi Bennett are celebrating the birth of their first child – a daughter, tonight.
Back in March, the duo confirmed the sex of the baby at a gender reveal bash at a private residence at Peter's Rock.
Prime Minister Andrew Holness was among the first public figure/government official to congratulate the two publicly.
He sent this message to the couple via his @AndrewHolnessJM Twitter page:
Congratulations to our sprint legend Usain Bolt and Kasi Bennett on the arrival of their baby girl! pic.twitter.com/lRno3Z6quK
— Andrew Holness (@AndrewHolnessJM) May 18, 2020
More details of the birth of #babybolt to come.