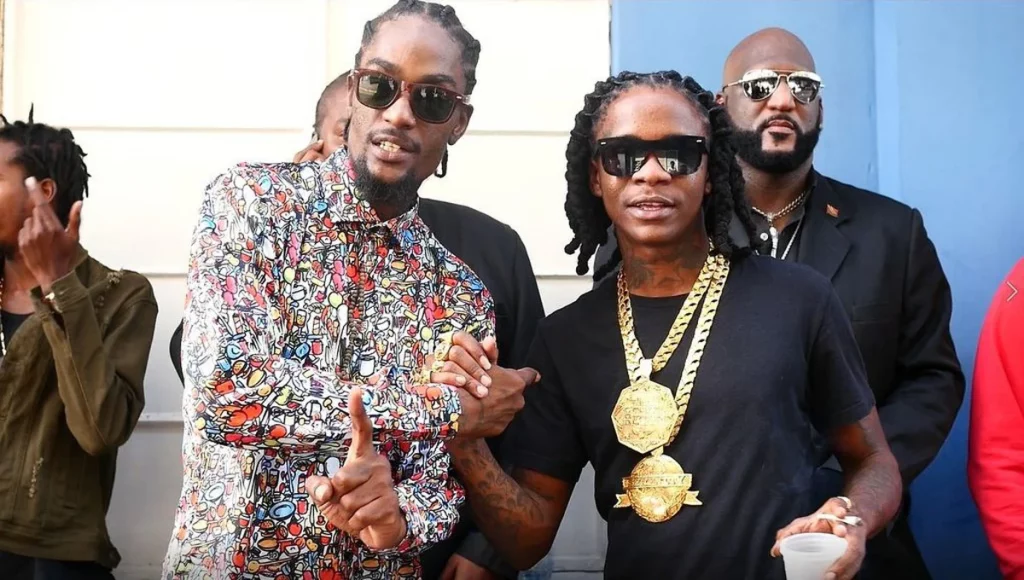 Trinidad police are reportedly investigating an incident during which the home of a well-known 'Trinibad' artiste was riddled with over 100 shots in Carenage on Monday morning. No one was injured in the incident.
Police blotters reported that around 1:15 a.m, residents of Francois Road in Carenage heard a series of loud explosions. Cops observed a group of men fleeing the scene,and on closer inspection, the artiste's house had sustained significant damage. The police were notified, and over 100 spent shells of assorted calibre were recovered at the scene. Police said that the artiste is currently in the US and the shooting is believed to have been done to "send a message".
Trinibad artistes have been increasingly linked to violent gang activity in the Twin Island republic, often with deadly results. Trinibad is the name that artistes call dancehall in Trinidad, a derivative that is inspired by Jamaican dancehall music. The songs depict grimy street narratives with lyrics that glorify gun violence and trigger-pulling. The carnage experienced in the Trinibad genre, which leans heavily on gun violence for lyrical inspiration mirrors the experience of modern-day dancehall artistes in Jamaica.
On September 2, 2022 Trinibad artiste Kalonji Arthur was shot multiple times near the Brix hotel in Cascade, in an incident that claimed the life of his girlfriend Bridget James, 24, who died on the scene. She was laid to rest on September 10. No one has been held in connection with this incident. Reports say the couple was in the car park of the hotel sitting in a silver-grey Toyota Corolla at 2:16 p.m when another car approached. Two gunmen exited and fired at them, hitting both Kalonji and Bridget.
On August 16, 2022, TriniBad dancehall artiste Daniel Hamilton, was gunned down at point blank range while standing outside his Moruga home. Hamilton, 26, of Poui Trace, St Mary's Village, Moruga, died after being shot four times in the face, head and chest. The murder occurred around 8.30 pm, shortly after Hamilton, aka "Mad Dog," walked outside to take a call and meet an associate.
In October 2021, three Trinibad artistes were gunned down in the span of a month. One of those was Craigman, whose real name is Keenan Craig, 31, who was killed at St. Paul Street, Laventille. According to a Trinidad and Tobago Newsday report, a gunman approached Craig and shot him in the head and chest at about 9:15 p.m. one Saturday night, October 13th. Craig, a father of one, was known for songs such as Chat and Nightfall with Metal Dan.
Craigman's demise followed that of fellow Trinibad artists Jahiem "Chucky Blanco" Joseph, 18,—who was shot dead by police on September 25 after he allegedly pulled a gun on them—and Josiah "Siah Boss" McClatchie, who was reportedly killed during a shootout with police on September 26.
In July 2020, 26-year-old dancehall artiste Kyle Roberts, was shot several times during a home invasion at Viceroy Crescent, Bon Air Gardens. Police said Roberts, whose stage name was Rebel Sixx, was playing games on his PlayStation video game console at around 11:45 pm (local time) when two gunmen dressed in black stormed the house and shot him multiple times. They also revealed that they found 17 shells at the scene of that murder.
In April 2021, Bradbadlikethat, whose real name was Brad Bailey, was shot and killed in the Santa Cruz area on March 31. According to police reports, residents of Blackford Street, Cantaro Village, heard gunshots around 10.55 am and saw men running along the street where Bailey lived. He was found a short while after with gunshot wounds.
Bailey, who was known for the song Born Bad, was a member of Ztekk owned by Trinibad artist, as Trinidadian Dancehall is called, Prince Swanny.
Interestingly, in January 2021, Prince Swanny had to publicly deny that he was involved in a scheme to unleash all out gang war in the capital city, Port-of-Spain. Through his legal team, he condemned gangster activities after messages began circulating on WhatsApp warning of an "all out" war brewing amongst gangsters within the capital city which named him as a person of interest.