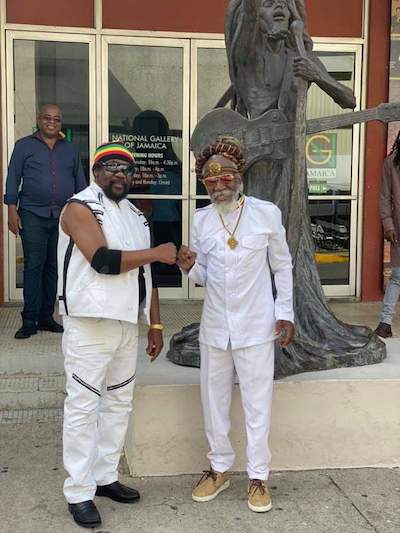 The family of Toots and Maytals frontman Frederick 'Toots' Hibbert is asking the public for prayers as the singer is battling for his life. The 54-46 singer is reportedly in a medically-induced coma at the Tony Thwaites wing of the University Hospital of the West Indies.
"We need prayers right now, Toots is a mighty soldier on the battlefield. It is rough but the doctors and consultants at UHWI, and Dr. Shernette Bryan, who are working 24-7 around the clock to save him and we thank them for their efforts. We know he will pull through; he is a true warrior. The Hibbert family is asking for privacy at this time," manager Cabel Stephenson told one876entertainment.com.
"We will be monitoring his progress and issuing further updates through his Jamaican publicist Claude Mills."
Esteemed British label Trojan Records said it hoped Hibbert "makes a speedy recovery", while British reggae singer Maxi Priest urged fans to pray.
"Prayers and well wishes to my bredrin. Stay strong king. Blessings all around," Maxi Priest posted.
Ironically, Hibbert's band, Toots & the Maytals released "Got to be Tough", their first album in over a decade, at the end of last week, August 28.
Toots Hibbert is reportedly one of six critical patients battling COVID today in the island. Jamaica recorded three new COVID-19 deaths over the last 24 hours, as well as 224 new COVID-19 cases.
The deceased are an 88-year-old man from Clarendon who died on August 28; a 73-year-old man, also from Clarendon, who died on August 30; and a 79-year-old man from St Elizabeth who died today, September 1. All three men had underlying conditions, notably Parkinson's disease, hypertension, alcoholism, and diabetes. They bring to 24 the total number of COVID-19 related deaths on the island.
The 224 new positives bring to 2,683 the total number of confirmed COVID-19 cases for the island. Of the 224 newly confirmed positives, 119 are females and 95 are males. The sex classification of 10 of the new cases is under investigation.