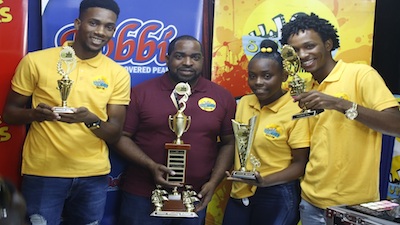 Girl power held centrestage recently as 16 year-old teen DJ Venny of Waterford High School in St Catherine won the SunCity High School DJ Competition Grand Finals on Saturday.
The 16-year-old girl led from the start to finish against 'Tatis ' from Clarendon College to take the title in the fifth staging of the competition. Venny walked away with trophies, cash, digital devices, gift certificates and gift baskets from sponsors, and SunCity branded items.
Reggae artiste Tilibop provided two headsets for the top two selectors in the contest.
"It feels great just to give back especially to young selectors who have that raw passion and fire. It is a joy, I'm just happy to be of service to my people in any way I can to help us to move forward. The youths are our future, my contribution is an investment towards that future," Tilibop said.
Judges Roxanne Brown, brand manager of Charles Chocolates Bobby Chocolates, Geefus of Stone Love, Copper Cutty of Coppershot and Code Lank of Code Red were impressed with the level of skill showcased, especially by the winner DJ Venny.
She battled DJ Tatis over three tough rounds to emerge the winner.