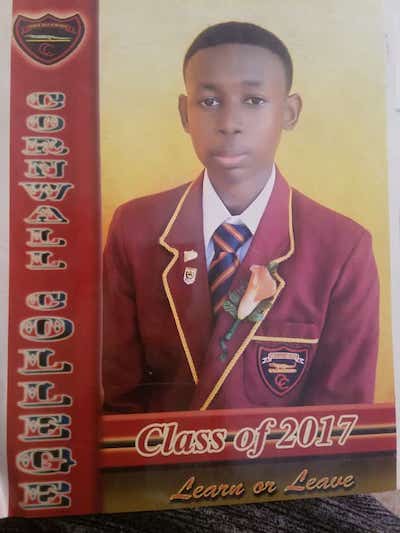 A 19 year-old died of a suspected heart attack over the weekend after being terrorised by police officers enforcing a curfew in Montego Bay, St. James.

The teenager, Carmichael Dawkins, had been in the company of one of his friends. The youngsters had gone to downtown Montego Bay to do some shopping but had found it difficult to get a taxi to get home before the 8 a.m. curfew began.

"They were in downtown Montego Bay at about 7, but couldn't get a taxi , they were trying to rush home, so Carmichael decided to go to the friend's home first and then grab a taxi home. They were walking along Jarrett Street when some officers pulled up, asked them some questions and left. Then a new set of officers came up and asked them questions, and then told them to 'run'," Kerry Ann Dawkins-Ricketts, an aunt of the deceased, said.

"The police started to drive them down with baton until my nephew collapsed. He had a panic attack. He was not used to that treatment, is a young man don't even talk patois. The police didn't even carry him to the hospital, they waved down a taxi and told the taxi-man to carry them to the hospital, the friend went with him," she explained.

The friend recounted the harrowing story to the family including Carmichael's father, Michael Dawkins.

"My brother is devastated. He hasn't stopped crying since Saturday, I took him to the doctor for him to get medication to calm him down but he is not taking them. He is taking it very badly, this is his one son, his first, they were like best friends. He has another daughter with his wife but they are separated, I don't know how he is going to get over this one. The police dem too terrible, the friend say they were laughing when they were driving them down with the baton," she said.

She has made a formal report to the Independent Commission of Investigations (INDECOM) and to the Freeport Police station.
Carmichael Dawkins was employed at a local call centre before the COVID-19 pandemic caused a work furlough. He was a graduate of Cornwall College.

"He had so many dreams, he wanted to be a computer technician. He was healthy as far as we knew it and for him to be snatched from us so cruelly, this is heart-breaking," she said.