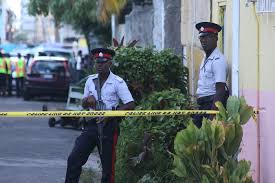 Chinese vengeance is slow but sure. Tommy Thompson, who was listed as wanted in connection with last December's murder of a Chinese couple in Bellevue (near Southfield) in St Elizabeth, was shot dead during a confrontation with police on Tuesday night.
A senior police source said Thompson was shot and killed in Bloomsbury District in the New Market police area about 10:40 pm after he allegedly attacked the police with a machete.
In March he had managed to elude the police on the Holland Bamboo main road during a shoot-out.
Thompson was being sought by the police following the double murder after he and two gunmen were caught on a closed-circuit television posing as customers in Jojo supermarket before killing Haikong Wan, 48, businesswoman and Shiyun Shu, 53, a businessman of Bellevue District.
The police said the business owners were killed during a robbery at the business place.
The police added that they were alerted to the robbery at about 7:20 pm On their arrival, the Chinese nationals were found lying in a pool of blood. They were taken to hospital where Shu was pronounced dead and Wan succumbed at about 8:15 pm.
Two brothers have since been charged with the double murder and are before the court.
READ: St Mary brothers charged with murder of Chinese couple
Police say Thompson was also wanted for several counts of shooting with intent and illegal possession of firearm.