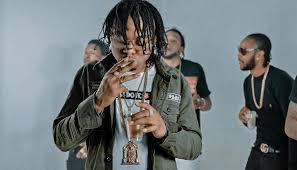 The management of dancehall artiste Rygin King has rubbished claims that have emerged online that the deejay is paralyzed as a result of injuries he received when he was shot by attackers in Westmoreland last month.
"The deejay is not paralyzed, I cannot go into specifics about his medical condition, but the deejay is responding favourably to treatment and he has tingling and has feeling in his legs, and is responding to stimulus in his lower legs and extremities. We want people to stop the rumour-spreading and speculation about the deejay's health at this time," a source close to the deejay said.
Some sources say the deejay is hoping that he can get stronger and recover sufficiently so he can begin extensive physiotherapy and regain the use of his legs.
The 25-year-old Rygin King, born Matthew Smith of Norwood, St James, was shot by unknown assailants in Westmoreland, and originally admitted to the Savanna-la-Mar Public General Hospital on June 28th. He was airlifted a few days later to the Falmouth Hospital.
Since then, he has done numerous transfers to various medical facilities all over the island to access top notch doctors as he continues to trod an arduous road to recovery.
"We want to thank his fans and well-wishers who continue to pray for his speedy recovery," the source said.