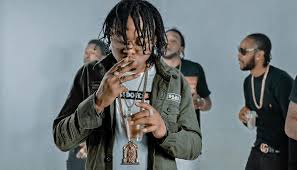 Dancehall star Rygin King has released a new song, Inna Mi Mind as a precursor to his heavily anticipated album later this year.
"Mi ah still 'Dancehall's Baddest Ting', mi just a ketch back the flame, we no gone nowhere, ah just one king, any other king, a muss a napkin," a confident Rygin King said.
King, 25, whose real name is Matthew Smith, returned to the scene last year after being hospitalized following the attack on his entourage that left him severely injured.
He will continue to celebrate his survival with the release of the reflective Inna Mi Mind on the Zukie Records imprint via all digital download platforms lat Wednesday. Zukie Records is managed by Jamari 'Sinco' Sinclair.
"With this single, mi ah remind myself of the process, mi a remind myself that it all started inna mi mind before I could make it a reality. So when mi sit down and meds by myself more time, mi realize seh mi did have to conceive it first inna mi mind, that's where it begins, with an energy and a dream," he said.
King continued, "So this song is like a message to myself and the youths out there that no matter the fight, you have to keep trying."
There are plans to shoot visuals for the project soon.
The artiste has made an arduous journey from death's door after being shot three times by men in Struie district, Westmoreland in June 2020. The entertainer was reportedly chased into a gully and shot by a gunman, and suffered injuries to his back and leg. During the attack, 28-year-old customer service representative Sashalee Blackwood, who was sitting inside the vehicle with two children, was shot and killed.
Blackwood was the baby mother of Rygin King's manager.
"God give me strength and life. Once we have life, we can work to make everything else better. My album is going to be big. Mi have a testimony to tell the world. Mi just did a regain mi confidence, dem shot a lot of energy outta me," he said.
He did a series of major operations, the last procedure taking place in July 2020.
Since his dramatic return a few months ago, King has been releasing new music and videos, defying all talk of possibly losing his ability to walk. His team also directly denounced rumors that King was paralyzed after he completed a second surgery in July.
Two of the standout songs he has released since his return are the plaintive No Emotion which racked up 5.1 million views on YouTube, the defiant Mission which registered 1.1 million views and a reminder of his come-up dubbed Dancehall Baddest Ting which is currently #15 on Trending, having racked up over 1.1 million views since its release on April 9.
The artiste has thanked his fans for the loyalty, love, and support they've been continuously sending his way.
"I just want to thank my fans for their support, and I know they are waiting on the album. There is no release date yet but it will have 15 tracks, put together by various producers plus tracks on my Rygin Trap Records label," he said.
The star came to prominence in 2018 when he was the closing act for Reggae Sumfest. He is known for songs including Tuff, How Me Grow, Ruption and Things Go Change.