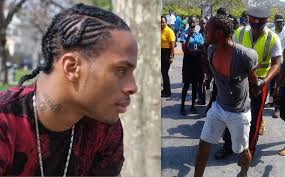 One876entertainment understands that Dexta Daps was arrested a short time ago by the Hunts Bay cops.
A video of the the singer's arrest surfaced on social media showing the handcuffed singer being escorted by a heavily armed contingent of cops.
It appears the entertainer was picked up in his hometown of Seaview Gardens. Police sources say that the Hunts Bay police want to question the artiste for alleged involvement in gang activities in the Seaview Gardens area. He has not been formally charged and it is unclear when he will be released.
Senior Superintendent of Police (SSP) Stephanie Lindsay, head of the Jamaica Constabulary Force's Corporate Communications Unit (CCU), confirmed to ONE876 that the singer had been held in relation to an ongoing and intensive investigation into gang-related activity in the police division.

"He is in police custody because of an investigation into criminal gang activity in Seaview Gardens and surrounding areas. The police have been doing their investigation for a while and the police had reached a point in their investigation where they've taken him and several other men into custody. I can't say much more because the investigation is at a sensitive stage," she told Claude Mills, ONE876 SENIOR EDITOR.
Attorney-at-law Peter Champagnie has been approached to act as counsel for the 'No Underwear' singer.