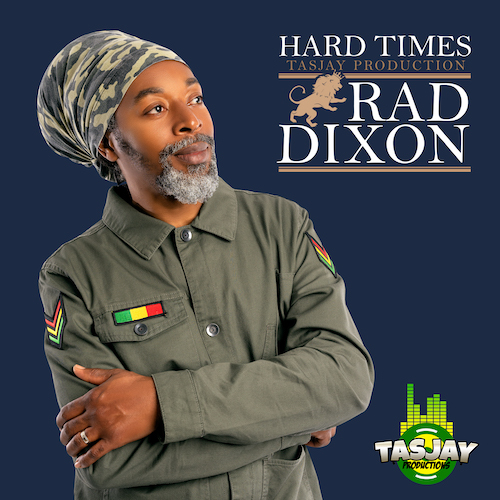 Certain artists are emerging who offer a fresh new take on the evolution of reggae as a genre and are keeping it a globally viable entity. Tasjay Production record label's Rad Dixon is arguably one of those artists. Rad Dixon is able to make music through the lens of various influences and from the very first single off his much-anticipated debut album, "Hard Times", he sets the production and quality standard for what is to be expected from a successful reggae artist today. As a result, every song on Hard Times feels like it has a deeper meaning and although never forced, this complex album is filled with hidden depths that will require numerous listens to unlock them all.

Rad Dixon is an authentic reggae artist and his use of production that would be successful in other genres, like the song Times Are Hard's soulful rnb-like production, is not a bid to water down his music but is a testament to how serious he takes his craft. Nothing sounds generic in the production of Hard Times and in fact, Hard Times is the culmination of the trajectory that Dixon has set with his many previous standalone single releases. Based on his previous releases, it comes as no surprise that Hard Time's production is a masterful amalgamation of soul, rnb, soft rock, funk, and of course, reggae.

Put quite simply, Rad Dixon cares to please us, the listeners, enough that he makes every effort to match the perfect production with the perfect song. Peppering every song with a simple one-drop riddim just won't cut it with Rad Dixon, something that we as the audience can greatly appreciate. Songs on Hard Times see Rad Dixon exercising his experimental creativity while maintaining recognizability as an authentic reggae artist to not just the generous listener but to the true purists.

"Times Are Hard" sets off the album with Dixon's smooth singing, which makes an easy listen and is almost an ode to the 80s songs from greats like Third World and Maxi Priest. But make no mistake, this is no cheap imitation or lukewarm tribute to those artists, Times Are Hard is uniquely brilliant, and carries a poignant message about facing the hard times many of us and our youths are finding ourselves in today.

On "Right Portion", Rad Dixon is joined by the angelic Talee who brings some of the smoothest harmonies you will ever hear on a reggae song. Right Portion's production is sure to get you skanking in a two-step or slow dancing at a jam while passionately whispering the lyrics into your loved one's eyes.

"True Love" might easily become some listeners' favorite production and song and is arguably Rad Dixon's best flow on a beat. What sets Dixon apart from other artists is his ability to feel relatable and listening to his songs feels like meeting with him in person. True Love will instantly remind you of your loved one and bring a smile to ease your soul with its beautiful melody and soothe any pain love is causing you.

"Mama's Love" is another well thought out production with every lyric, melody, backing harmony, and instrument setting a vibe and atmosphere that makes an easy listen and dedication to our special mothers.
Rad Dixon cleverly brings the legendary Luciano for the "Times Are Hard" reggae version. What makes it a triumph is not just the more reggae sounding bass and chords but is the feeling that you are being transformed to the front row of a live reggae concert with the two artists performing while you sway and forget all the hard times in your life.

A more sombre sounding "On and On" feels like taking a look out the window on a rainy day while reflecting on the meaning of everything happening internally in your heart and mind and externally in the world around you. Rad Dixon's words on On and On feel like a supportive hand reaching out to someone that has taken huge blows in life and giving them the strength to stand up to find another day.
From the stasis of "On and On", we go to the spontaneity of "Reggae Vibes", which picks the tempo back up and brings feel good vibes with its groovy bassline and unleashes a euphoric sing-along chorus. "No knifes no guns" is definitely a message from the lyrics that the community is desperate to spread today.
"Jah Never Sleeps" sounds like a real roots riddim and pays homage to the power of true Rastafarian values and serves as a call to manifest the power of Jah's wisdom and guidance. The valuable message in this powerful song's fiery lyrics is that no wickedness shall prosper against those that believe in Jah.
"Break My Heart" is another genre-bending production that is the perfect setting for a timely and important message that just had to be delivered over such a calm backdrop of an almost acapella-sounding soft guitar and saxophone. Break My Heart is almost ethereal and cinematic, and its sparse instrumentation is haunting. All those factors are the reason why it's impossible to not pay attention to Rad Dixon's powerful message in this song.
The successful final nod from Rad Dixon on his Hard Times album is "Tuff Life" a calm, omnipresent and resonant traditional drums-led production that sets a blissful and atmospheric finale to the journey the album takes you on. Tuff Life is a glorious conclusion to this smooth, modern but still soulful album which deftly traverses the line between urgent messaging and laid-back feel-good reggae music.