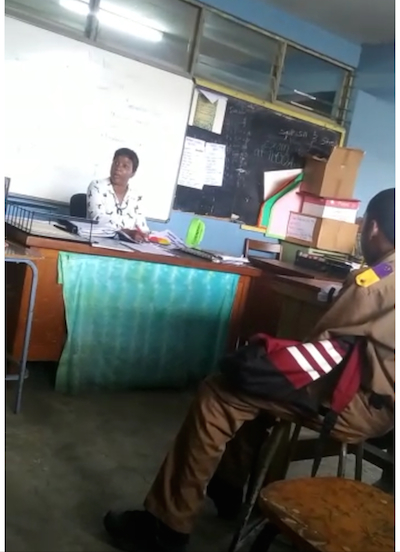 Minister with responsibility for Education, Youth and Information, Hon. Karl Samuda has ordered an investigation into an incident in which a teacher at the Pembroke Hall High School allegedly threatened a student with physical harm.
"The behaviour displayed is unnacceptable. It has no place in our schools," Minister Samuda said in a release.
The incident was captured on video and has been widely circulated on social media. The video captures the teacher telling the student: "mi wi kill you in yah bwoy" and asking him "Weh yah shout afta mi fa? Mi look like yuh mumma?"
The enraged teacher continued to hurl threats at the student, telling him "mi wi murder yuh inna dis… that's a promise".
She also dared him to report it to the police before instructing him to get out of her classroom. She also used expletives during the heated exchange.
Minister Samuda is reminding teachers employed in the public education system that they are expected to act with professionalism and decorum while conducting classes, notwithstanding challenges dealing with difficult and / or uncooperative students.
"Teachers have a daily influence on the lives of children and are held to high standards. In the midst of all of their responsibilities, they're required to serve as strong role models and demonstrate ethical behaviors as they interact with students, colleagues, parents and others," Samuda continued.
The leadership of the Pembroke Hall High School in St Andrew has also launched an investigation into an incident.
The Ministry's release also said that school administrators and the governance bodies are being reminded to enable an environment that will promote appropriate behaviours for teachers, parents and students. The Ministry urges stakeholders' cooperation as we endeavour to ensure holistic education for every child.
Efforts to get a comment from Pembroke Hall High School Principal, the Reverend Claude Ellis.
The Pembroke Hall High School is co-educational school situated on approximately ten acres of land in the community of Pembroke Hall in St. Andrew. It is sited close to the Pembroke Hall Primary School in a community that has residential properties and is bordered by several business places; the main one being the Boulevard Shopping Centre. It was previously a comprehensive high school before it was renamed in 2000.
A recent National Education Inspectorate assessment showed that although there has been improvement in some areas, the school continuously performs below the national average. Students entered Pembroke Hall performing above the National Average in Grade Six Achievement Test (GSAT) and Grade Nine Achievement Test (GNAT); however they perform below the national average in Caribbean Secondary Education Certificate (CSEC) examinations. For example, the school"s average in CSEC English was 53 per cent, while the national average for 2011 was 68.5 per cent.The school also performs below the national average in Mathematics.
The student population is mostly drawn from adjoining communities such as Drewsland, Maverley, Duhaney Park, New Haven, and Riverton Meadows, but students come from as far as St. Mary and St. Thomas. A number of the communities from which the students come are categorised as volatile; this factor has contributed to negative perceptions of the school.