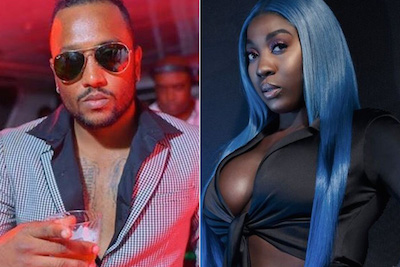 An explosive interview on the popular Kingmixup youtube channel with Spice's babyfather, Nicholas Lall, has exploded with a grenade of melodrama in the Dancehall Game. The 30 minute plus tell-all interview gave an inside, vulnerable peek into the feelings of a man battling with a maelstrom of emotions caused by doubts over the paternity of a child.
"There are allegations out there now that my son is not mine. I have never shared this … when my son was four years old, I found a photo in the house with a newborn baby and it was Cham…it was Baby Cham's son. I went through the drawer and found the picture and she said that Cham was her musical bredda. Anyways, I was looking at the pic and I was looking at my son and they look a like. I asked her if Cham was the father, and she bawl fi days, fi days the woman ah bawl till mi start feel bad," Lall said.
He said when the allegations first came out, he thought the only other name in the 'raffle' would be a man called 'Carter', but when RT Boss dropped Cham's name on Instagram, Lall's reaction was a popular Jamaican polysyllabic expletive.
"I asked a girl to send me a pic of Cham son to see what his son look like. She sent me a video of the kid, and I was looking at my son (pause)… a video with Elijah, and when I looked at Elijah, I was looking at my son. Damn, that shit hurt me, mi cry till me all fricking vomit, and the worse part is that I love this kid so much, I would die for this kid," Lall said.
He said that even if he does a paternity test and the result of the paternity test excludes him as the biological father, he will continue to love the child who does not bear his last name.
"I can't stop loving him because unconditional love is not something you can turn off," Lall said.
He said that he had a frank conversation with his son, Nicholas, about the explosive allegations made by Spice's former spiritual healer.
"He called me and said, 'Daddy, they say I am a jacket'. I said, Papi, if you are a jacket, you are the jacket I am going to wear until it torn up and can't wear no more…we are going through this together, I love him…I love him more than all my other kids," he said.
Lall made other allegations about the entertainer wanting to have two abortions and other allegations that we will not repeat in this account.
Lall also revealed that Spice had froze him out of their children's lives but had recently granted him access because she needed a favour from him.
"She needs me to renew a passport for my daughter, that's why she is talking to me now. Once that is done, I won't hear from them again," he said.
He fired shots at her, calling her 'ungrateful", and shared a personal story about her recovery after a major surgery in the United States. He denied the rape allegation involving Spice's former dancer, Danger, including a pleasant conversation where he called the dancer to congratulate her on recording a song.
He said he has been trolled online and called a 'monster' in the wake of the rape allegations.
"I have to pay lawyers to carry her to court, to pay how much thousands of dollars to sue someone who don't have one red cent, and now everyone a bawl, everyone who de pon mi name, wah dem a cry fah?" he said.