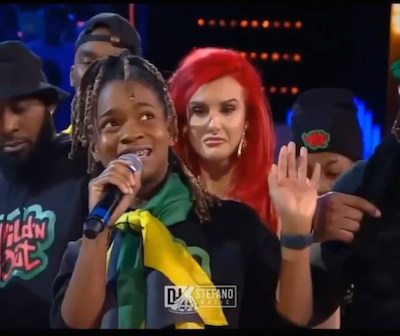 Grammy-award winning artiste Koffee shone brightly on the international stage again when she made her debut on Tuesday night's episode of Nick Cannon's popular Wild 'N Out show. She bussed the Jamaican lingua, and taught the cast some popular Jamaican dance moves.
The entire set paid tribute to the Jamaican culture with flags posted all over the studio.
DJ D-Wrek played dancehall beats as the cast, including Cannon, paid homage to Jamaican culture.
Re-naming their 'Turn Up For What' section of the show as 'Tun Up Fa What', the cast showed out with their best Jamaican accents.
"Me used to be baldhead but now mi tun dreadlocks," said one cast member as he participated.
"Atlanta tun up, way up. Me just touch dung inna Atlanta and I already got y'all addicted to that Koffee," said Koffee as she sealed the first-round win for her team.
In the next segment dubbed 'Bust Di Place', the cast was instructed to execute specific Jamaican dance moves including Dutty Wine and Flairy which were both demonstrated by Koffee.