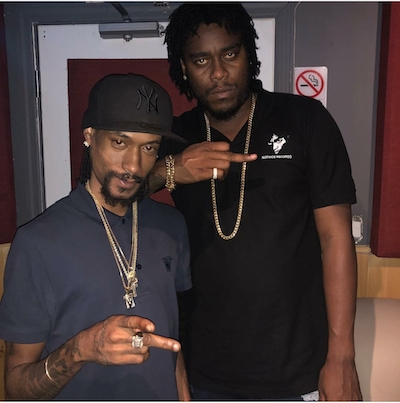 Music engineer Andre Duran Patterson a.k.a 'Drizzy' believes that his latest project, 'Glory', which features dancehall artiste Kapri a.k.a Pree will propel him on to the international stage.
"Kapri is creative and has ideas right out the gate and know how he expects to sound on a record," Drizzy said.
"The Glory song was one on the first songs to start the gears right now. Then we have a couple more tracks soon to be released," he said.
He met Kapri a few months ago and forged an immediate connection with him.
"I was working with Prince Pin, a New York based dancehall artiste and I met Kapri a.k.a Pree at an event through a mutual link. He came to the studio and he knocked out a few tracks , and decided that Glory ah the lead thing to set the tone."
Kapri is a well-known dancehall artiste who first jumped into the spotlight when he won a 'Battle Thursdays' contest, walking away as the winner of the battle two consecutive times.In 2008, Kapri got favourable response with the release of his Dear Mama single on Seanizzle's Creeper rhythm. The song got great rotation on several local radio stations and was also featured on Chris Gold Finger's UK Chart. He has continued to write and record music.
In the meantime, Patterson also dabbles in other music genres.
"I also worked with rap artistes and pop artistes like Red Cafe, Britney Taylor , Ray Starr and I'm a hired engineer so I am often in a major studio in Manhattan mixing and mastering but due to non-disclosure agreements I can't name names of projects," he said.
Patterson grew up in Jamaica but migrated to the USA at age 13 where he attended Martin Van Buren High school. He spent his teenage years growing up in Queens, New York. Patterson started doing music since 2002 as an assistant engineer at Spitfire Entertainment, a New York based label. He started his own music journey as an engineer/producer/composer in 2005.
He has worked on productions for Demarco such as 'Ryminister', and he has mixed or recorded songs with artistes such as Bugle, Kiprich, Teejay, Macka Diamond, Khago and Jahvillani. He has worked well on collaborations with producers such as Jay Crazie and Khris David.