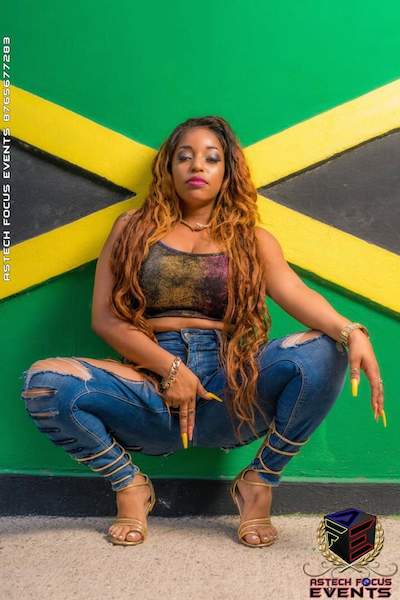 Fast-rising dancehall singjay Tashina McKenzie is making an urgent call for Jamaicans to recognise that all lives matter, especially those from inner city communities.
"I do recognise that today is a day of mourning for the police and my condolences go out to the families. It is really sad that the people who protect us are being killed, it doesn't give the public confidence that the police can keep us safe. While we are taking time to mark the death of cops, and to remember that Black Lives Matter, Police Lives Matter, we also need to recognise that Ghetto Lives Matter, the ghetto youths come in the line of fire," Tashina said.
Monday, June 22nd has been designated a Day of Mourning in the Jamaica Constabulary Force for Constable Decardo Hylton and Corporal Dane Biggs who were killed in Horizon Park, St Catherine two weeks ago. However, Tashina believes that other people's lives must be given equal weight.
"Many families are mourning because of the direct actions of the police force," she said pointedly.
Research by the human rights organisation Amnesty points to a strong likelihood that state-sponsored executions take place in the country, an online report said.
In the report, Waiting in Vain: Unlawful Police Killings and Relatives' Long Struggle for Justice, Amnesty welcomed recent reductions in the numbers of civilians killed by police in Jamaica, but said that officers perpetuated a culture of fear in which evidence was tampered with, witnesses were terrorised and intimidated and weapons were planted on victims of police killings.
"Sometimes, the security forces deal with ghetto youths with brutality based on loose information, is it the right protocol to kick off someone's door and shoot someone's uncle, father, brother, son, often in front of their loved ones and then call it justice? The way justice operates is that a man is presumed innocent until proven guilty and as such, he should be given a chance to face the charges and evidence brought to an impartial court to defend his character," the singjay reasoned.
Since 2000, members of the Jamaican Constabulary Force (JCF) have allegedly killed 3,000 people, according to figures from Amnesty and Independent Commission of Investigations (INDECOM), the police watchdog body.
"We can use this time to reflect and say, hey, wait a minute. You have to look and see where you're going and make an assessment, we need to look into all aspects. We are in mourning for all those people you see on the news who say that police come and kick off their door and kill their family, there is no justice where that is concerned. The way the news reports go is always one script, I am not inciting any negativity against police but we need to reflect that all lives matter," Tashina concluded.
Last week, Tashina shot a music video for her latest single, Don't Test Me' on the new Skool rhythm alongside Vybz Kartel, Sikka Rhymes, I Octane, Teejay and newcomer JB. The project will be released on the JB Production label to which she is signed, and will be distributed by Zojak Worldwide.
"The song is a bit hardcore, but everyone is saying it sounds really good on the radio especially with a hot Vybz Kartel song on the rhythm. Some are worried about the direction I am going musically because this is a graphic kind of song, but it is just an example of how creative and versatile I can be," she said.
She recently released a video for her bouncy new radio hit song, 'One Touch', which has been enjoying rotation on RE, HYPE and FLOW. Other songs to look out for include 'Inna the Shower', 'Pretty Pretty' and 'Independent', all of which have been released on the JB Productions label.
"I plan to release an EP later this year which will include dancehall as well as cultural reggae songs such as 'I Rise' with a UK-based producer. I have a collaboration with Queen Ifrica, and one with Sizzla as well, so those songs will be on my EP," she said.