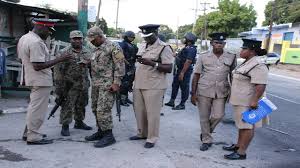 There was a major shooting incident in Spanish Town as five cops were shot, two fatally, in an ambush.
Reports are that gunmen opened fire on a vehicle carrying five members of the Jamaica Constabulary Force in Spanish Town, St Catherine last night. The fifth cop in the vehicle was also injured in the attack, but he was not shot.
The injured officers, all from the St Catherine North Division, were rushed to a medical facility by another colleague.
Initial reports are that Constable D Hylton and Det. Cpl D Biggs succumbed immediately to their injuries while Superintendent Clunis was shot.
The incident happened at Horizon Park, Spanish Town, and the unit called in to assist their appeal for reinforcements also overturned in the chaos triggered by the ambush. Police confirmed that the team was going on an operation and upon reaching the targetted premises, the five cops were fired upon with high powered weapons.
Five cops received injuries. SP Clunis was shot 8 times, Corporal Biggs was shot four times in the back and DC Hylton later succumbed with shots all over his body.
A voice note, presumably by a fellow cop, has been making the rounds which said:
"Mi call mi sistren a control and she tell me a bear bawl dem a bawl cause literally, you hear police ah bawl pon the radio, over the transmission, and dem a hear the shot dem a knock dawg say based on the rifle a fire, dem bigger than the police gun…the youth dem suffer daddy, dem get ambush," the voice note said.
"The ting grimy, but dem bwoy de a Horizon nuffi sleep, mi feel da one ya inna the morning," the voice note said.
ONE876NEWS will have more on this story as it breaks.