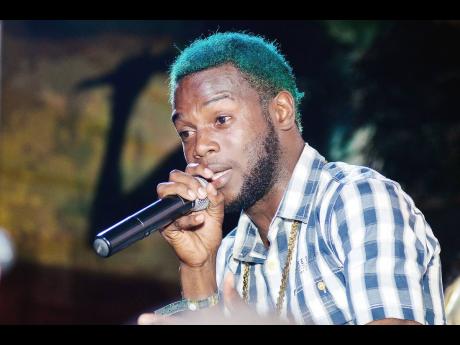 Dancehall artiste Flyght a.k.a Bluugo has made a video condemning the actions of fellow artiste Jah Cure who was charged earlier this week for allegedly stabbing a promoter in Amsterdam in The Netherlands.

"Mi did haffi come out and say something about this (expletive deleted) something ya.s like some people who have great power inna da business here do some f____y sometime and it lef a dark look pon we, pon our music, pon our culture, Jah Cure , yu keep yu f—-y bredda," an upset Bluugo said.

Reggae singer Jah Cure is currently behind bars in a Dutch cell. He may end up spending his birthday following his arrest in Amsterdam over the weekend. The True Reflections singer will celebrate his 43rd birthday on October 11.
"Memba say yu just come offa some rape ting, and yu come and yu de a road, wah day ya yu come wid some gal and one whole heap a sitten gwaan, and all Popcaan haffi come rescue one ah the gal dem. Boom, now, yu get a second chance, bredda, bredda go mek we proud bredda, surprise the people dem nuh but it come in like yu love jail house, yu love f—-y," he added. 
According to ONE876, reports are that the entertainer, whose real name is Siccaturie Alcock, appeared before a Dutch court on Tuesday morning to answer to criminal charges resulting from an altercation between himself and a promoter. 

Following the court session, the entertainer was reportedly remanded for 14 days as the police investigations into the matter continue.
Flyght a.k.a Bluugo recently returned to Jamaica after a series of promotional performances in the United Kingdom.

"Yu gone a big big Europe gone keep up f—–y, knowing that dem love call up Jamaica name, Jamaica this, Jamaica that , Jamaica have couple words well inna it but it easy fi call and you, as a man weh represent reggae music and say yu is a rasta, yu need fi trim your locks, yu is a dread!" he said.

"Regardless, what coulda be the case fi mek yu haffi stab the promoter? Yu know how dark that mek we look as artiste, as Jamaican artiste? Look how Africa big, we never hear say Burna Boy or none ah dem bredda de do dem something de. Look pon we general Bounty Killer, who is you? Come on bredda, the something hurt me, through yu no even know bredda," he ranted.

A former student at Bog Walk High School, Flyght (given name Marlon Powell) grew up between Trelawny and Linstead, St Catherine. Flyght won the 2018 edition of the popular 'Magnum King and Queen Dancehall' contest when he was known as Bluugo. He is known for songs such as 'Quarantine and Netflix', 'Ride It' and '10Z.
He is presently promoting his latest video, 'Crossroads'.