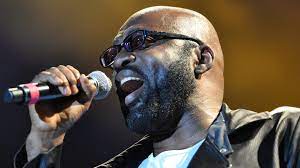 Reggae singer Richie Stephens has posted a YouTube video online in which he has vehemently denied the rape allegations against him by a 27 year-old female ex-soldier, Elaine Lim aka General Ling.
In a video posted on YouTube one hour ago, the Maniac singer denied the allegations which first surfaced two days ago when Lim went public with her own YouTube video, 'TW: The Truth about Richie Stephens in Australia 2019'.
"Ms. Elaine Lim made some allegations, some of what she said is true but I am here to tell you what is true. One, she was on tour with me in 2019 in Australia, two, she made a formal report to the police against me, and three, she did a rape kit. What she did not tell you, a thorough investigation was done by the Australian police, I was detained, they took a statement from me, they took a statement from her and other people and there were cameras in the vicinity," he said.
"While I was detained, I called my attorney Christopher Townsend who advised me what to do, and at the end of the investigation, they found her allegations to be simply baseless. You know what is true, I am really sorry for her, to know that she would go that far to try and get some recognition. We're living in a time where they believe that likes is far more important than the truth and we're here to bring the truth out," Stephens, whose real name is Richard Stephenson, said.
Two days ago, the 27-year-old former art educator claimed that she was the alleged victim at the centre of a two-year-old assault which occurred in 2019 during the singer's tour of Australia.
In the 25 minute video, she detailed her harrowing experience in which she was assaulted by the popular singer despite her repeated "nos".General Ling said that she had released a reggae song titled Not all that Glitters is Gold about her rape.
He ridiculed her confession video, dubbing it a "staged performance".
"You don't need to stage the truth," the Weakness for Sweetness singer said.
The Governor General Awardee chided her for inviting the media to link her personally.
"Clearly, she ah look a buss," he said.
After signing to Motown Records in 1992, Stephens released the album Pot of Gold, with hit songs such as Body Slam (with Patra) and Legacy (with Mad Cobra) which hit the Billboard charts and received heavy rotation on networks like BET.
Richie Stephensr returned to Jamaica where he scored hit singles such as Take Me Away, Weakness for Sweetness and Maniac featuring Bounty Killer. Stephens is a decorated musician, having been awarded the Song of the Year and Digital Sales of the Year at the ASCAP Pop Music Awards for his contribution to Rihanna's smash hit 'Work', which had sampled his 1998 Sail Away riddim.