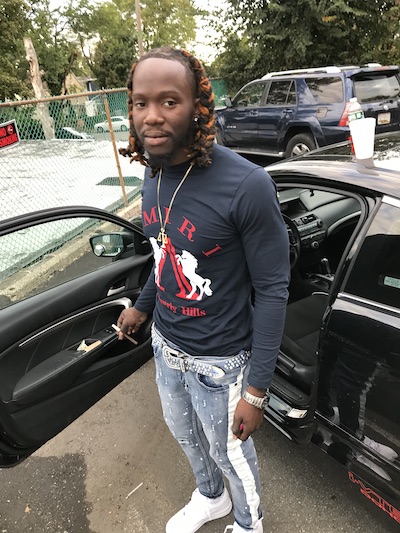 Lying on his back a hospital bed in 2021, recovering from a near-fatal gunshot to the chest, dancehall rapper El Benzo knew that he had to pursue his dreams with the second chance he had been granted.
"Getting shot motivated me a lot because it was a crazy experience, I almost died, I ran to get help, my friend had to rush me to the hospital and there was just a lot of crazy emotions and thoughts running through my head. So that scary experience pushed me to get creative within myself, and do things that matter because life comes at you from all angles," he said.
Stop us if you've heard this one: 50 Cent was shot nine times in front of his grandmother's old home in South Jamaica, Queens on May 24, 2000. Prior to blowing up, Ghostface Killah was shot in the neck and arm in the early '90s. Cam'ron was shot during an attempted carjacking in Washington, D.C. on October 22, 2005. On November 30, 1994, 2Pac was shot five times during a robbery while entering Quad Studios in New York City.
Waka Flocka Flame was washing his car in Atlanta, Georgia, when he was approached by a man who, according to police, was attempting to rob Waka of his jewelry when a fight broke out and he was shot in the arm. After exiting a club in South Jamaica, Queens in 2001, G-Unit rapper Lloyd Banks was shot twice in what he's described as a random act of violence. He was hit in the back and stomach, and ran to the nearest hospital (Mary Immaculate) after suffering the injuries.
"Getting shot is like a rite of passage in the rap game," he said.
Since that time, he has been logging heavy hours in the studio. El Benzo is overwhelmed at the positive feedback to his single, Karate.
"Everybody loves this song because it's different. Karate is my first dancehall song, speaking about my Jamaican roots. I got a lot of friends that aren't Caribbean so my goal is to make people understand and learn from my music through both genres, and this song on the Green Dot rhythm is my chance to blow up," the artiste whose real name is Lorenzo Gayle, said.
"The future is looking real bright right now, I am grateful…God really has a different plan for me."
The single was released on all digital platforms in February, and he posted the song to his Instagram page and the comments came flooding in. Now he is fast-tracking plans to come to Jamaica to shoot a video for the project..
Born in the US, he grew up in New Jersey where he attended Bloomfield Tech. He returned to Jamaica during Summer holidays and fell in love with the island's vibrant music and culture. After graduating high school, he attended trade school where he studied business management/entrepreneurship. However, music remained his first love.
"My style of music is a blend, my approach was just trying to create my own sound by combining two styles of music that I grew up on, and my producrs on Chase Mills Records made it a reality," he said.
He plans to release an EP later this year and producers have started to send beats his way. Other songs include 'Jewish Lawyer' and 'Humble Yute'.