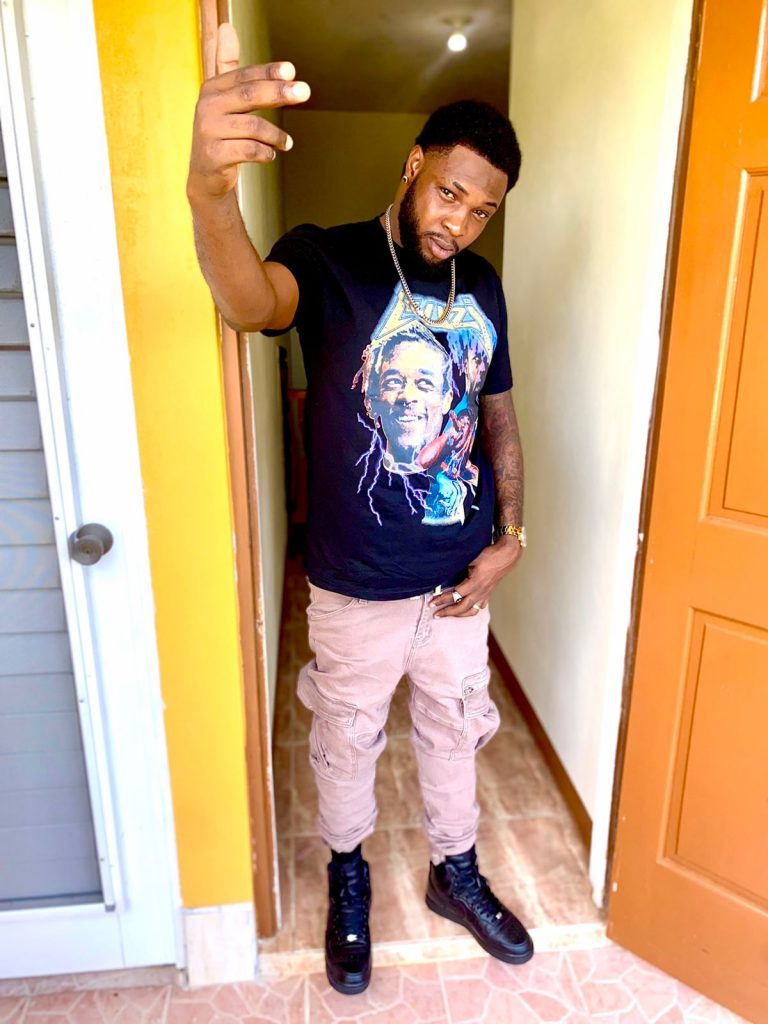 Dancehall youngblood Breeze Genah dropped his ode to Nike's Air Force One sneakers in a rhyme-happy single, 'Air Force 1' featuring fellow dancehall artiste Aiden.
"The early feedback has been great, people are really loving the video. Air Force Ones are an iconic brand, Nelly did a song with it, Kartel and his son did a song so I am just carrying on in that tradition, this is a really cool sneakers, having the right kicks is a symbol of status, an extension of the image of artiste, and I really love these shoes," Breeze Genah said.
The single was released with swanky visuals with booty-bouncing babes and luxury cars on July 22nd via the HowWow Records label and is now available on all digital platforms.
The first pair of Nike's Air Force One sneakers hit the market in 1982, at a time when hip-hop and the branding of Michael Jordan were both on the rise. Rapper Nelly's famous song entitled "Air Force Ones" is perhaps the most famous example of US rappers bragging about this sneaker in songs. In 2021, Vybz Kartel with Likkle Vybz, and Likkle Addi did their own tribute to the iconic kicks.
The 'Air Force 1' single appears on the GG rhythm — created by Lamar 'Cell Block' Thompson — which features previously released songs such as Jahvlllani's title track, 'GG', which has racked up 200,000 views since its release on July 1.
The project features six tracks, three of whom have been previously released: 'Money & Fun' by Deep Jahi, the abovementioned Jahvillani chart-burner, and 'Me Hype Mi Self' by emerging sensation, Smashing.
"We're going to release a new song every Friday. On July 22nd, we released 'Air Force 1' and J Toxic's 'Like Fifa', while Excel Black's Groove will be out on July 29th," producer Roderick 'Raddy' Fray, chief executive officer of HowWow Records, said.
Fray and his indie label HowWow Records have quickly carved out a reputation for powerful singles such as the radio hit song, Choppa Gyal by Honey Milan ft. Skillibeng, Jahvillani's 'Money Power and Respect', Jahshi's smash hit, 'Prosperity' and Skillbeng's 'Match Up'. Fray's biggest hit is Jahshii's Prosperity which has racked up 2.7 million views since its release.
"Music is my passion, the driving force in my life, " he said.
Fray grew up around music playing in his community of Frazer's Content in Spanish Town on a daily basis, especially at night. In time, that love transformed into a passion but when he graduated Spanish Town High, he pursued several entrepreneurial ventures. Fray is currently co-producing some songs with YGF Records. Earlier this year, HowWow Records inked recording and booking deals with young artistes Smashing and Excel Black.
"Big up YGF Records, him give me a lot of strength and most of my biggest productions. I have a song to come a road next with Chronic Law and also for the label artistes Smashing and Excel Black. We're going to shake up things this Summer," Fray said.