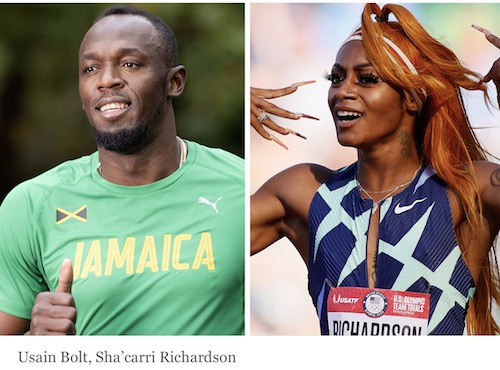 Olympic Champion and music producer Usain Bolt says he thinks the rivalry between Jamaica and the USA in Track And Field is good for the sport.
Even with many detractors saying Richardson needs to prove herself and let go of the hype at least for now, the man regarded as the greatest sprinter of all time, the legendary Usain Bolt has come to Richardson's defence.

"I like her energy because I think she's good for the sport because her energy is different. It's spicy, it's a vibe," said Bolt in an exclusive interview with REVOLT.

"You will have failures throughout your career, it's just one of those things. In my first Olympics in Athens, I didn't make it outside the first round. So, it's just about being determined and pushing yourself, and just believing that you can do it, and just go and do your best," Bolt advised the 21-year-old.

Addressing the argument that Richardson is "too confident" and "not humble enough," Bolt said to each their own. "Everybody is different. But, I think she brings a different spice to track and field. And sometimes sports need somebody like that to give the energy, to get people talking about it," he told REVOLT.

While many persons objected to the one-month ban imposed on Richardson, Bolt had a different take."For me, I've always said one thing: rules are rules".

"They're in place for a reason. That's how I've always looked at track and field. Because as soon as you get your agent, or your coach, or the person they have around you, [he/she] has to explain to you that, listen, these are the rules of the sports that you're in. You can't do this. You can't do that. You can't take this, you can't do that," Bolt added.

Continuing, Bolt said "I know it must be tough on her. And I've always said you should have people around you now to explain it, to make sure this mistake doesn't happen again."
Usain's collaborative debut album Country Yutes drops Friday, September 3.
"I'm very excited for the world to hear "Country Yutes". NJ and I have worked very hard on this body of work. It is my first full production as producer and we tried to tap into all the different subset of Reggae/Dancehall music."