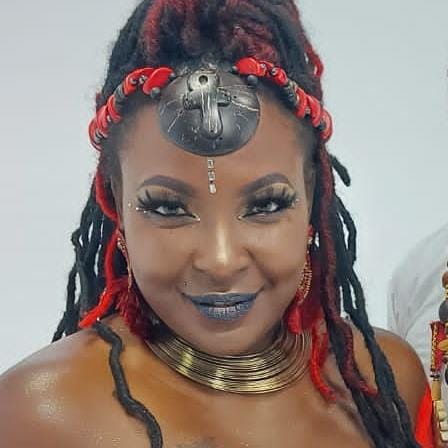 St. Ann-based reggae singer Black Queen delivered a powerful performance at the IRIE FM Marcus Garvey Celebration held last week in Ocho Rios that surprised and impressed the large gathering
With flag-waving dancers in tow and dressed in a flowing yellow African print dress, she used every square inch of the stage as she pranced all over the stage chanting about 'Africa'.
"Africa, we de ya, tell dem we de ya…from yu black, yu a African," she chanted, while horns and vuvuzelas spanked the night sky.
Then she pulled up the rhythm to bless up the audience .
"Good night ladies and gentlemen, we are coming from so far, we have been through so much so we should realize that we are powerful and we should know we should love ourselves," she said to appreciative cheers.
Then she did her most popular song, Black N Proud and closed her set with 'Conqueror'.
Black Queen is now promoting her latest single, Murderer.
Held annually, the concert is a free event that aims to educate, uplift, and inspire through the arts.
"This is the first time that I have done this show and it was important for me because of the significance of Marcus Garvey, especially at this time with the sense of hopelessness and the high level of crime. People are suffering and I really think in this time, we need to cleave to the teachings and philosophy of Marcus Garvey," Black Queen said.
The Marcus Garvey Celebration also featured tribute performances from the likes of Warrior King, Bushman, Chezidek, Hezron, Yaksta, Anthony Cruz, Nesbeth, Little Hero, Prophecy, Bongo Herman, Shav A, Mojo Herb, DYCR, Sativa the Black One, and Wise Words among others. There were also performances from Ras Ivie and the Nyabinghi Drummers, and the Moore Town Maroon Cultural Group.
Garvey was born in St Ann. As an activist he organised the Universal Negro Improvement Association (UNIA) which grew into an international organisation and advanced a pan-African philosophy that inspired a movement known as Garveyism.
He died in London in 1940 at age 52, and his body was exhumed and returned to Jamaica in November 1964. Five years later, he was named Jamaica's first national hero.
Although he died in 1940, Garvey exerted a profound influence over the intellectual life of Jamaica and the wider African Diaspora. Garvey's ideas and organizations attracted millions of supporters in the Caribbean, Latin America, Africa, and the USA in the 1920s.