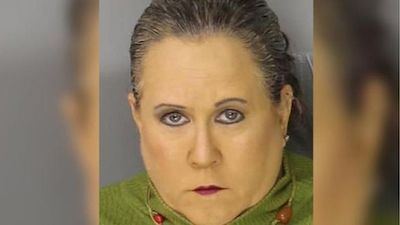 A mother allegedly used explicit deepfake photos and videos to try to get her teenage daughter's cheerleading rivals kicked off the team.
Raffaela Spone from Pennsylvania, US, reportedly sent the content – which showed members of the Victory Vipers team "naked, drinking and smoking" – to the coach.
Deepfakes use artificial intelligence to doctor images and videos.
Mrs Spone has been charged with multiple counts of harassment.
She is also accused of sending abusive messages to the team, their parents and owners of the cheerleading gym, using fake phone numbers.
The Hilltown Township Police Department in Bucks Country said it believed her daughter was unaware of the alleged incidents.
Mrs Spone is believed to have used the girls' social media accounts to generate the deepfake images.
Authorities traced the phone number that had sent the harassing text messages, which led them to a website that sells numbers to telemarketers.
Police then followed the data to an IP address that was tracked to Mrs Spone's home.
"Victory Vipers has always promoted a family environment and we are sorry for all individuals involved. We have very well-established policies, and a very strict anti-bullying policy in our programme," said coach Mark McTague.
"When this incident came to our attention last year, we immediately initiated our own internal investigation and took the appropriate action at the time. This incident happened outside of our gym."