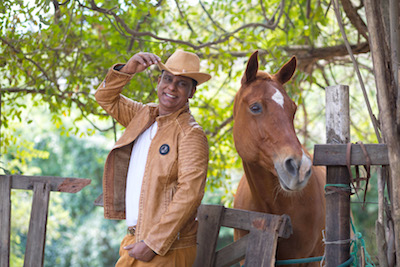 Country reggae impresario Wesrok has christened himself as the King of Country Reggae – an emerging and bonafide brand of reggae music with country music stylings on the international stage.

Wesrok launched his 7-track album, Look At Me Now, on April 23 to  rave reviews. Wesrok said the album is streaming well, with one of the tracks, Poor Country Boy, racking up more than 104,000 streams on Spotify. The second single, Left Out in the Dark, has generated 84,000 streams.

"Some reviewers have even compared my style of singing to Kenny Rogers, and it's great that people are making these comparisons but the reality is that I am the top performer in country reggae today," the artiste said. 

Kenny Rogers is an American country and western singer, who died in March 2020. He was 81. Wesrok is making plans to record songs with top musicians in Nashville, Tennessee later this year. 

"People are starting to notice what I am doing. Country reggae is not a subgenre but a new brand, not quite country, not quite reggae, but a brand new flavour for the masses. Reggae emerged out of Rocksteady and ska, so this is a new step in the evolution of our music which is always changing," the recording artiste Wesrok said. 

"Today, I am the face of country reggae but through 360 Global, I can sign other artistes who can help push this new artform internationally,' he said. 
Wesrok, who hails from the rural district of Swamp Lane in Bog Walk, St. Catherine, believes he is ideally equipped to be the face of this new music movement. He made his debut last year with Looking Back in June, which he self-produced in his 360 Global Entertainment imprint and since then, he has worked hard to finetune his sound. 

"I feel that there is a niche market out there for country reggae in Jamaica and overseas, in Europe and the rural states of the USA," he said. 

He intends to use his record label, 360 Global Entertainment to create a platform for young artistes who want to experiment with the 'country reggae' artform.

"360 Global intends to sign talented young artistes who want to experiment with different genres and tap into the global marketplace. I need anyone who can sing songs that might not fit  in with the platforms available in Jamaica," Wesrok said.  

Wesrok (given name Percival Buddan) hails from Swamp Lane in Bog Walk, St Catherine. He's a past student of Dinthill High School.
Wesrok is a former superintendent of police in the JCF. He holds a masters degree in national security and strategic studies from The University of The West Indies and an MBA from Northern Caribbean University.