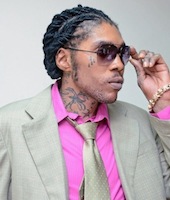 Dancehall star Vybz Kartel and his co-accused have been denied conditional permission by the Judicial Committee of the Privy Council to challenge their 2014 murder conviction before the Privy Council in the United Kingdom by introducing "fresh evidence".
Dancehall star Vybz Kartel, known for hit songs like Fever, lost his long-running legal battle to appeal his murder conviction before the United Kingdom Privy Council, Jamaica's final court, and may have to settle down and serve his full sentence in a Jamaican jail.
The Privy Council is the highest court of appeal in the United Kingdom and its decision is final.
A report of the Judicial Committee of the Privy Council named Adidja Palmer, Shawn Campbell, Kahira Jones and Andre St. John as appellants vs The King as the respondent.
"Having considered written submissions from the Appellants and the Respondent, we have agreed to report to Your Majesty as our opinion that permission to appeal to be refused in the application dated 20 November 2020," the committee reported.
Further, permission to appeal the additional grounds advanced on behalf of Mr. Palmer to be refused and also refused on the application for an extension of time and application to rely on fresh evidence. The grounds do not support the submission that a serious miscarriage of justice has occurred in this case (in application dated 12 November 2021).
The committee said that "Either party may make representations on costs to be filed within 21 days of the date of this order".
The men filed an application seeking to go to Jamaica's final court after their appeal was rejected in April 2020. Vybz Kartel and his co-accused were granted conditional permission to go to the Privy Council in the United Kingdom to challenge their 2014 murder conviction, in September 2020.
When contacted, Vybz Kartel's attorney-at-law Isat Buchanan was tight-lipped.
"The matter is sub judice," Isat Buchanan said.
In law, sub judice, Latin for "under a judge", means that a particular case or matter is under trial or being considered by a judge or court.
Buchanan had confirmed that an independent cellphone expert found fresh evidence of phone tampering. In previous interviews, Buchanan had said that there is now confirmation that the cellphone from which the prosecution based its case in Vybz Kartel's conviction was tampered with.
Vybz Kartel is seeking to have his 2014 murder conviction vacated on the grounds that evidence used to convict him was fabricated as the phone- a Blackberry Torch and sim card was tampered with while in police custody.
Defence attorneys successfully got their application for the cellphones to be analyzed by an independent expert approved by the Court of Appeal. This latest ruling is a major blow to Buchanan's argument that the cellphone evidence was fabricated or tampered with, had been gaining traction.
The dancehall artiste, whose real name is Adidja Palmer, and co-accused Shawn 'Shawn Storm' Campbell, Kahira Jones, and Andre St John were convicted in 2014 for the 2011 murder of Clive 'Lizard' Williams.
They were handed mandatory life sentences.
Kartel was ordered to serve 35 years before being eligible for parole, while Shawn Storm, Jones and St John were ordered to serve 25 years.
The Court of Appeal in April shaved off over two and a half years off the times.