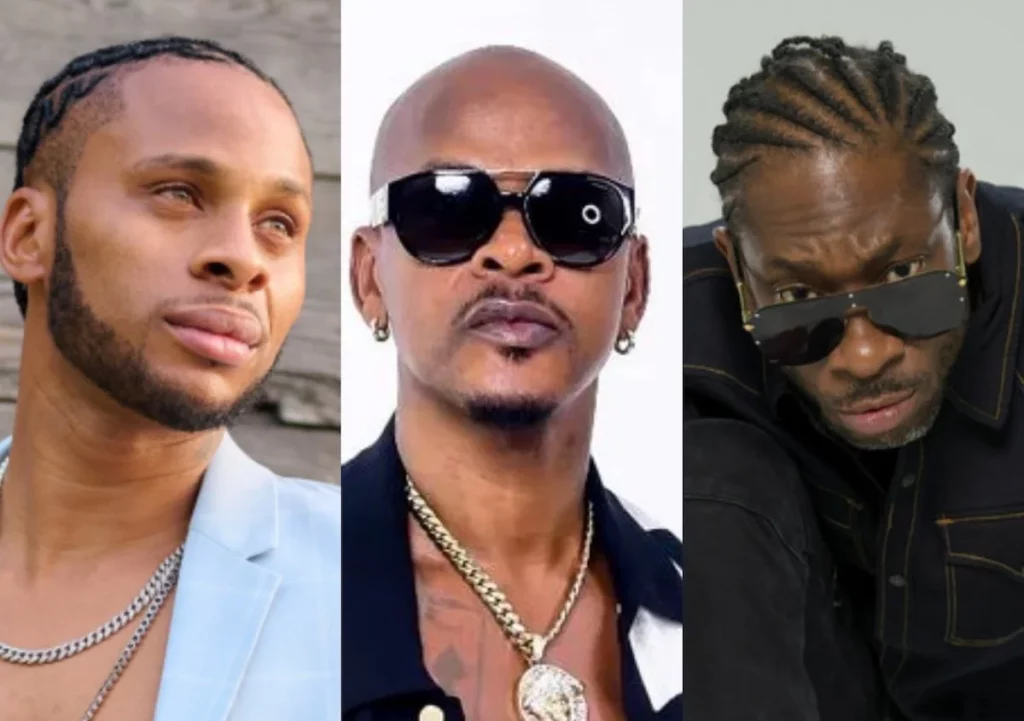 The war of words between Bounty Killer and Mr. Vegas boiled over into a lyrical one recently with the two artistes releasing two songs each.
Bounty Killer started off hostilities with a song called 'Watch Yu Mouth where he declared 'fish body wash up on the beach'. He posted the song on IG and made a reference to 'batty patch face', a slight at Vegas' recent cosmetic surgery to remove a keloid from his face.
Bounty Killer then upped the ante, when first released a diss track for Vegas called "Drag Queen," as he ridiculed Vegas' lyrical skills as "karaoke /my war no jokey jokey", and declaring 'batty breath, go wash yu mouth'.
" Vegas responded by calling Bounty "pedo boy," alleging that the artist had impregnated an underaged girl several years back but suffered no consequences for it. Vegas also released a diss track called 'All Out' where he channels Tenor Saw, deejaying: 'gunshot inna bwoy mouth/mi mek the whole ah yu teeth dem jump pit/through your throat, yu tongue fall out", and vowing, "Yuh violate a child mi wi dig out yuh heart".
Then followed up with Run Up which was released on February 7th on his Suubi Di Warrior youtube channel, racking up 32,000 views.
Bounty Killer also responded with 'Bup Bup Bup' which was released on February 8 via his youtube account.
The feud dates back to the year 2000, when Vegas took lyrical aim at Bounty during his performance of the song 'Hard' at STING. Bounty Killer vowed to write off the singjay's career.
Since then, Bounty has often taken pop shots at Vegas over his sexuality, often calling him 'Gaygas' and helped to create stigma that followed the deejay for the next decade. During those days, Bounty Killer also attacked Mr. Lexx, using 'bowcat' slurs and oral sex jokes to belittle him. For his part, Vegas accused Bounty of everything from preventing producers from recording him on certain rhythms through his Alliance connections.
In 2017, Vegas appeared in a 70s outfit on Digicel Rising Stars and Bounty Killer used the opportunity to attack Vegas once again. Bounty ridiculed a 70s outfit, again questioning his sexuality, Vegas shot back, questioning Bounty's earnings and asking what hit songs he made in recent memory. Vegas added fuel to the fire days later, claiming his involvement with one of Bounty's ex-girlfriends left the 'Grung Gaad' fuming. He even challenged Bounty to a clash at last year's STING and recorded the diss song, Bury Him Fuss.
Recently, the feud between Bounty Killer and Mr. Vegas has gotten nastier, with Vegas parading around a birth certificate which alleges that Bounty had a child with a 15 year-old girl.
The feud has even pulled in Dexta Daps into the nastiness as he called out Vegas for dissing Bounty.
On Thursday, Mr. Vegas turned his attention to Dexta Daps, who called him a derogatory term used against gay people. Mr. Vegas fired off several posts on Instagram aimed at Daps for dissing him earlier in the day and calling him a "b—yman."
Dexta Daps seemingly joined the fracas writing under Bounty's comment, "rare gasss report mi comment," he wrote with laughing emojis and the fish emoji.
He then tagged Mr. Vegas, writing, "@mrvegas [fish emoji] cyah swim inna our wataz …YUH COULDA BAWL BLOOD YA DEAD….BUS HIM HEAD GENERAL," he wrote.
Dexta Daps also uploaded a video aimed at Mr. Vegas.
"B**bclt dis, gay gas? Me fi clash gay gas?" he said, kissing his teeth. "me want piece a dat deh war deh? Batty yuh is a mad man?" he added.
"Mind me make two ah mi girl dem kill you enuh… because mi sure dem girl me have more lyrics than you batty," he said before apologizing for using the slur.