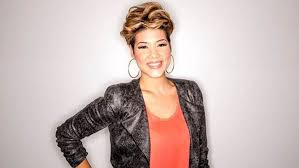 Social media exploded with morning with glee as singer Tessanne Chin today announced that she is expecting a baby girl in 2020.
Chin shared the baby news to her 198,000 followers on Instagram, sharing a photo of her kissing a dark-skinned "mystery" man in the background of a photograph with pink baby shoes in the foreground.
" Oh baby !!!," an excited Chin captioned the post.
The reaction was immediate and visceral on Instagram with congratulations and expressions of vowel-heavy joy from enthusiastic supporters.
Entertainment personality Ms. Kitty responded quickly: Mi haffi buss a Miss Kitty blank fi dis!! Lalalalalalalalalalalalala @thebestess !👑 Congrats hun! I'm so happy for you. This is awesome! Bless up and nuff luv!!
Radio personality Nikki Z chimed in : Aaaawe Congrats Tess, I know you will be an amazing mom!
Yendi Phillips also sent her heart congrats with a post that said: "Hooray!!!! Yay!!!! Congrats Tess!!!🎉🎉🎉"
Tessanne Chin divorced Michael Anthony Cuffe Jr. in 2015, months after achieving stardom internationally.
Tessanne Chin is mostly known for her international hit 'Hideaway' and of course for winning season 5 of The Voice (2013), a popular American TV show that affords virtually unknown talent a chance at international stardom under the guidance from international stars in front of millions of viewers.