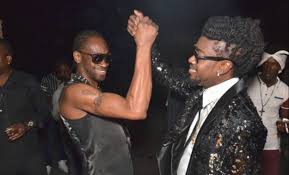 After their historic performance on the first reggae and in-person Verzuz battle on Instagram Live, both Beenie Man and Bounty Killer have seen a fillip in terms of the sales of their individual singles as ten of their songs now occupy positions on the iTunes 100 reggae charts.
Since the climax of the the clash on the two-hour livestream, there has been a mushrooming interest in both artistes as more than 450,000 people tuned in to see them perform on Saturday including Barbadian singer Rihanna, music mogul P. Diddy and Jamaican Olympic gold medalist Usain Bolt. There have been several thousand mentions on Twitter and IG, glowing editorials in music magazines and national newspapers, brutal parodies, sarcastic memes (read Beenie Man's beer belly) and best of all, a gentle explosion in sales.
Several singles have popped up on the iTunes 100 reggae charts. Here is the run down so far:
Beenie Man's 'Girls Dem Sugar' featuring Mya , released June 29, 2000 is at #19, and the original, released with Beenie's vocals in1996 is at #87. When it was first released, this single peaked at #13 on the UK Top 100 charts and also peaked at #54 on the Billboard Hot 100 on December 2, 2000
One of Beenie Man's most popular and controversial singles is 'Who Am I', which was released December 9, 1997, and is now at #24 on iTunes reggae chart. When first released, 'Who Am I' was a worldwide hit which peaked at #10 on the UK charts and peaked at #40 on the Billboard Hot 100 on May 22, 1998.
Popping up at #31 is the single, 'Romie' from the Best of Beenie Man album, released January 1, 1996. Bounty Killer's chart-topping 'Living Dangerously' combination with Barrington Levy clocks in at #32. It was released on the 'Nah No Mercy' – album on September 17, 1996.
Beenie Man's King of the Dancehall, released July 24, 2004, from the eponymous album is at #37 while Bounty Killer's 'Look', released January 1, 1999 from the 'Nah No Mercy' album is at #38
Beenie Man's Dude, released January 27, 2004 is at #58 on the iTunes 100
chart. Dude is Beenie Man's highest charting single on the UK charts, clocking in at #7, and peaking at #26 on the Billboard Hot 100 on June 12, 2004.
Bounty Killer's 'Sufferer' featuring Wayne Marshall on the Diwali riddim, released January 1, 2006 is at #66.
Beenie Man's 'Rum and Red Bull', released January 5, 2011, featuring Future Fambo and Seanizzle is at #69.
Beenie Man pops up again at #96 with 'Bookshelf' and #98 with 'Murderer' featuring Barrington Levy which was released January 1, 1995.