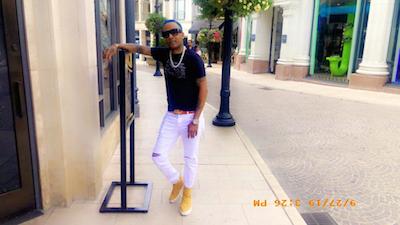 L.A-based EDM-reggae-pop-fusion producer Chris Goldfinga is gearing up for the release of his sophomore album dubbed "EDM Dancehall Boss".
The album, which is distributed by local distributor J Wonder 21st, features the slick production of well-known indie outfit, the Beverly Hills Boys, a EDM-reggae-pop fusion company based in Los Angeles, and created by record producer Chris Goldfinga and his Golden Cartel label.
"Beverly Hills Boys is a production squad which is venturing into DJing like the likes of Major Lazor and Calvin Harris. This album is highly anticipated around the world because of its diversity of range, artiste and sound . Our sound is primarily an EDM-based dancehall sound but we have incorporated other genres to make it really diverse…we got pop, dancehall, reggaeton, EDM, an Abba Swedish sound, house, deep house and more," Chris Goldfinga, whose real name is Christopher Clarke, said.
The album leads off with a suacy single, 'Foreplay' from dancehall maestro Vybz Kartel who teams up with Italian opera singer Chiara Ariè. The overall album features 20 sparkling tracks with high production values showcasing songs by dancehall pop star Sean Paul, dancehall giant Vybz Kartel and Italian opera singer Chiara Ariè on the aforementioned 'Foreplay', Afrobeat Nigerian star Waconzy, Swedish singer Kennedi, songstress Maiya Sykes, Esco the Shocker, and JayBad aka Draybadz.
"The album has a truly international feel with Afrobeat well represented, a Reggaeton contribution by Dominican Republic artiste D-Rok305, rapper Uneak on a Michael Jackson sample which reps New York, while American singer Rya killed it, pop singer Jamar represents for Jamaica, and female rapper Mellinin reps the independent females with an X-rated strip club anthem. This is a project that is multi-cultural and truly stands out," he said
The compilation is rounded out by artistes such as Singing Sweet who is known for the reggae cover, 'When I See You Smile', a cult hit from the 1990s, and budding EDM star Gasz Mask, who has collaborated with dancehall legends Shabba Ranks and Vybz Kartel.
The group's first album, 'Electric Rasta', was released in 2016.
Beverly Hills Boys is the mastermind of 'Goldfinga' who has a long list of accolades and who has worked with a virtual who's who in the world of dancehall since the 90s.
"Beverly Hills Boys has got the attention of a lot of its peers in the music industry and we are making major moves and strides overseas whether it be Beverly Hills California where it all started, in Jamaica with Capone and the street team, and the rest of the world where the buzz is up and gunning. Even though we do world music fusion, we always wave the Jamaican flag," he said.