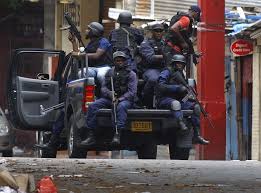 Residents say a gunman described as a 'Spanish Town shotta' was shot dead during a shootout involving a licensed firearm holder and the police following an attempted robbery at a bar in Stephen's Run in Nain, St Elizabeth on Saturday morning.
Police have not yet ascertained the identity of the gunman.
According to a police report, said about 1:05 am, two men, one armed with a firearm, held up the bar and demanded cash. When the demands were not met, the firearm was reportedly used to hit and injure a man who was responsible for handling the cash.
The injured man managed to escape and raised an alarm. A licensed firearm holder who was close by responded and challenged the men. A shootout reportedly ensued.
It is further reported that a police team joined the gun battle.
When the shooting subsided, the men were found suffering from gunshot wounds. They were taken to the Black River Hospital where one man was pronounced dead and the other admitted under police guard.
The man who was assaulted by the attackers was also taken to hospital for treatment.
The police say a pistol with the serial number not visible along with a magazine was seized.
A Subaru motorcar was also found abandoned near the crime scene with damage from bullets.
The police say nineteen 9mm and four 12 gauge spent casings were found while processing the scene.