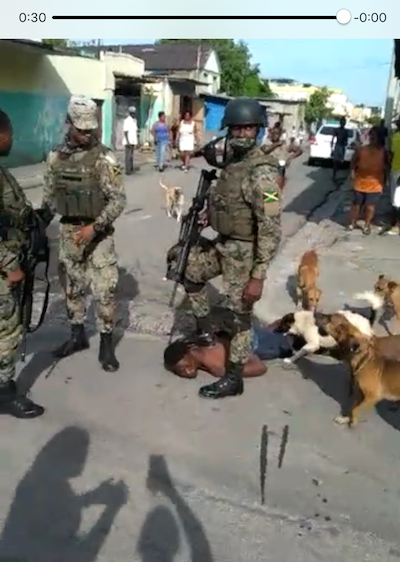 Jamaicans reacted angrily online to a video circulating online which purportedly shows a civilian and members of the Jamaica Defence Force (JDF) involved in a physical altercation.
The video shows the civilian resisting the soldier's attempt to apprehend him, even flicking over the soldier on his back , but he finally gave in when the gun was pointed directly at his head. Then a female soldier kicked him in his back, and the soldier planted his boot on the civilian's neck.
Some were mortified that the soldier stepped in the civilian's neck as if he were a common dog, forcing his face into the dirty pavement.
"It is a shame to see the soldiers brutalizing the citizens of this country, soldiers are not supposed to police citizens, I am just glad that the soldiers showed restraint but this is an explosive situation that should never have happened," one user mused.
Another commented on the lack of hand-to-hand combat training displayed by the soldier in question.
"Him want some cornmeal porridge and homemade magnum!" one user cackled.
Others jumped to the defence of the security forces.
"I am really tired of the wanton disrespect shown to our security forces. I am tired of the level of indiscipline in our society!! Everybody a resist arrest nowadays. Sigh," one wrote on Twitter.
One even suggested that the offending civilian was lucky and that the soldier "shoulda put two inna the bwoy head".
Another suggested that the "SOEs had gone on too long to the extent that criminals no longer feared soldiers".
The Independent Commission of Investigation (INDECOM) is now aware of the incident but the independent investigative body says it has yet to receive a formal complaint in the matter.
We are aware of this video and similar recent altercations with members of the JDF, many of which we have not received formal complaints for, to begin the investigations into the allegations of assault. We would urge these citizens to contact us via whatsapp at 876-553-5555 or call us 876-968-8875 to report the incidents," an INDECOM official said.