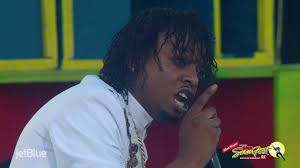 Dancehall artiste Rygin King and his management team will be cutting their European tour short, and attempting to leave The Netherlands to return home to Jamaica within the next 48 hours.
"The shows in Italy and France have been cancelled. It appears all of the reggae festivals for the Summer seems to have been cancelled, this pandemic ah go like yellow fever. This change the whole world," Rygin King's Rohan Ramsay manager told ONE876ENTERTAINMENT.COM
The first show was held on March 2 in Zurich, Switzerland, and Rygin King had sold out performances in Germany and Amsterdam.
"The shows in Germany, especially those in Zurich and Berlin showed that Rygin King's popularity is growing in Europe, but one of the best shows was in Amsterdam which was ram, the club full, four-corner forward, the Europeans loved the energy and the vibes," Ramsay said.
The tour was slated to end on March 15th in Helsinki, Finland. The artiste will no longer head to Italy and France as the shows have been cancelled. He will no longer head to Accra, Ghana where he will perform alongside Baby Cham on March 21.
"We're trying to get a flight to leave The Netherlands on Tuesday and head back to Jamaica. We're going to drive to Brussels in Belgium and get a direct flight into Jamaica, because the next straight flight from Netherlands is March 20th and we can't wait so long," Mr. Ramsay said.
"We need to head home now."