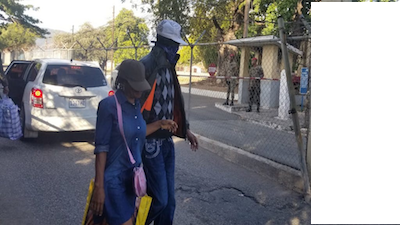 Seventeen deportees arrived in the island on a chartered flight from the United Kingdom on Tuesday afternoon.
Following their arrival at the Norman Manley International Airport in Kingston, the returned residents were processed at the Specialised Operations Unit of the Jamaica Constabulary Force and released.
A spokesperson for UK Prime Minister Boris Johnson said Tuesday that all 17 are serious foreign criminal offenders who had to be deported to their country of birth.
Reportedly among them are rapists, drug offenders and others convicted of robbery and firearms offences. They have served a combined 75 years between them, according to the British media.
Earlier this week, Downing Street had dismissed concerns about a deportation flight to Jamaica as the preoccupation of a "Westminster bubble" and vowed to press ahead with an inquiry into the use of judicial review.
After a court judgment forced the government to remove more than half the people from the flight list, the prime minister's press secretary said reaction to the case showed that "certain parts of Westminster still haven't learned the lessons of the 2019 election".
The flight to Jamaica took off early on Tuesday with 17 deportees onboard.
Downing Street said 25 people were prevented from being deported as a result of the court ruling. Originally about 50 had been expected to be onboard.

The chancellor, Sajid Javid, robustly defended the decision to go ahead with the flight on Tuesday, saying those onboard were not members of the Windrush generation but offenders who posed a risk to the public.
"These are all foreign national offenders – they have all received custodial sentences of 12 months or more. They are responsible for crimes like manslaughter, rape, dealing in class-A drugs," Javid told BBC Radio 5 live.
The prime minister's press secretary later dismissed concerns about the flight and highlighted the government's intention to review the use of judicial review to challenge ministerial decision-making.