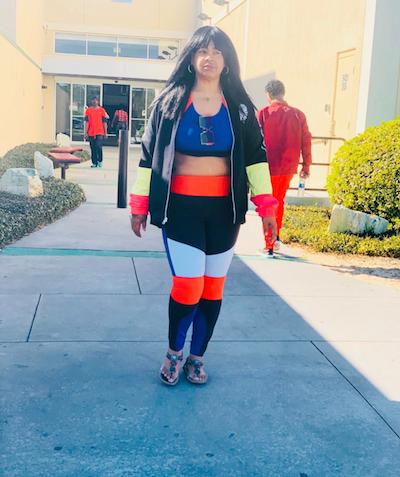 Social media personality A'mari "DJ Mona Lisa", known for her tumultuous relationship with dancehall star Gully Bop, is calling it quits with the deejay. Why? She has given her life to Christ.
"I am over Gully Bop. He is not trustworthy but I will always care about him," she said.
She got baptised over two months ago after going through a particularly rough patch in her life.
"I saw a superior being in my dream. He told me that he was walking away from me. My whole life went into tumult. I ended up in excruciating pain for over a month. It was then that I surrendered my life to Jesus Christ. He came personally to me in a second dream and said, "I need you". I thank God, He saved me," A'mari, whose real name is Veneice Fung-Chung, said.
A'mari was baptized first by a Pentecostal minister over 20 years ago. She renewed her relationship 10 years later, and maintained an ongoing relationship with God. Still, she had an ugly tumultuous, insult-hurling relationship with Gully Bop and public spats with other bloggers as she remained in the world. But now she is "all in" with Christ.
"But I believe I've reached a new dimension. I'm not that lost soul who is looking for love. I feel Jesus' precious love in abundance and now I'm able to give it," she said.
She has recorded songs such as 'Cheater Girls' featuring Gully Bop and 'Black Hypocrisy', both of which have music videos.
After her Damascene transformation, the outspoken social media blogger opted to do gastric bypass surgery, lost over 40 pounds.
"The biggest change in my life is watching myself losing the weight after many years. I'm feeling so much healthier and want other people to experience this feeling of love, acceptance and appreciation. My body is a temple for God but I used it as a cistern. But no more. I was blind but now I can see," she said.
Description
Gastric bypass surgery refers to a surgical process in which the stomach is divided into a small upper pouch and a much larger lower "remnant" pouch and then the small intestine is rearranged to connect to both.
Now, months later, she has transformed herself into a successful body positive online influencer, who helps celebrate self-love in all shapes, sizes, skin colours, and body types. She wants Jamaicans to make healthier choices.
"I got caught up in the system and found it difficult to get out. I walked away from everything and went to South Florida penniless with my children. Then God moved in my life, and it's like everything I've touched since has turned to gold. My family and I just secured the most beautiful place in Orlando, I am healthier and I want Jamaicans to know they need to get healthy, fix their life, get rid of diabetes and hypertension, make better choices," she said.