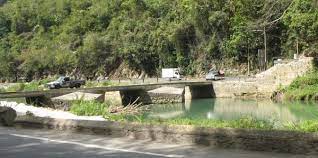 One woman is dead after a bus plunged into the Rio Cobre this morning. The bus, which plies the Linstead to Spanish Town route, collided with a Nissan AD Wagon before swerving into the dark surging waters of the Rio Cobre. Nine other persons were injured in the accident.
The Constabulary Communication Unit confirmed the accident which reportedly occurred at 9:15 a.m. today.
The Bog Walk Gorge has been the site of numerous major collision and consequent fatalities over the years.
A popular route for large trucks and speeding taxi drivers, it is a narrow tongue of winding road connecting Bog Walk to Spanish Town with a rock face setting on one side, and a deep, unpredictable riverbed on the other. Between 2005 and 2018, official reports say the Gorge has claimed 34 lives.
Most of the incidents have been attributed to speeding. For instance, there is a point on the roadway where drivers often race to get on to the Flat Bridge before those travelling in the opposite direction.
The installation of traffic lights at the bridge years ago has largely stemmed those sorts of crashes, but there have been occasions when the lights stop working, reportedly mainly because of lightning strikes that hit the electrical system, which sometimes present serious technical challenges to getting the lights operational again.
Some persons are haunted by the mere thought of even travelling along the Gorge because of the many lives that have been tragically lost in motor vehicle mishaps, including drowning in vehicles that end up in the riverbed, in the area.
In 1998, for example, a Westmoreland man was charged with 13 counts of manslaughter following a crash that claimed 13 lives.
Also, in 2016, six persons were killed when a Suzuki Grand Vitara jeep ran off the road into the river when the driver lost control of the vehicle. One person—a 19-year-old male—was rescued from the vehicle.
He confirmed that he was driving the Suzuki Vitara when it plunged into the Rio Cobre early Saturday morning.