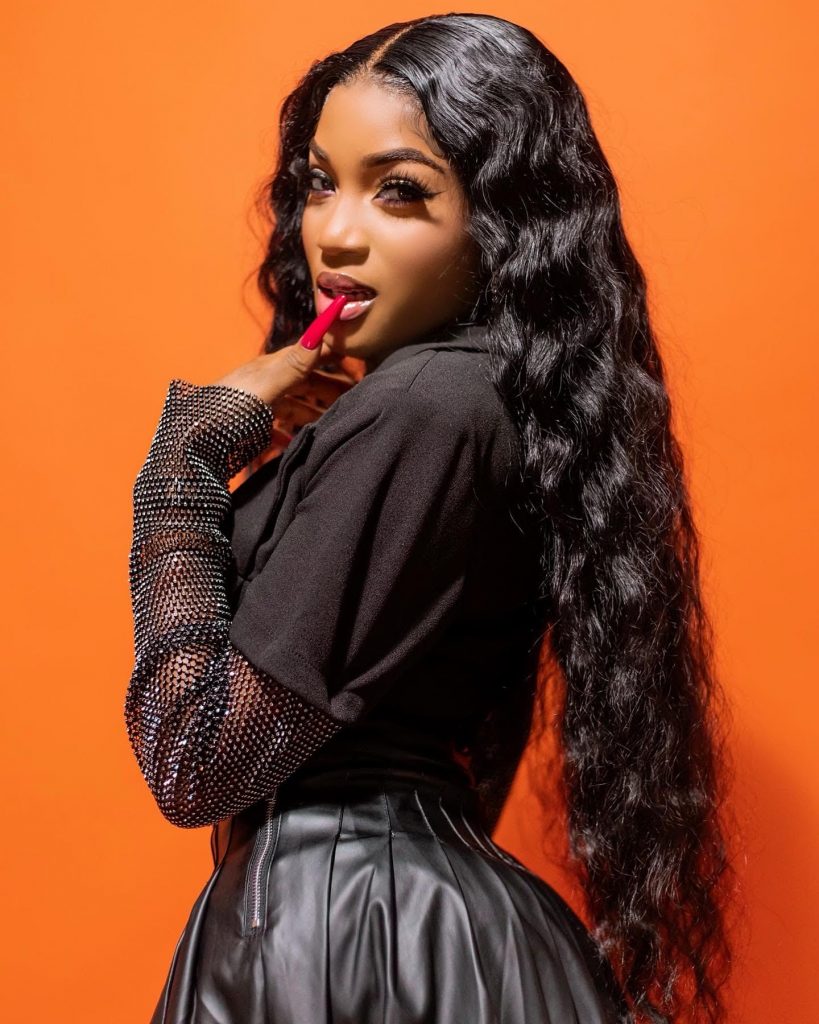 Dancehall vixen Moyann is overjoyed that 'Middle', her sexy collaboration with Tommy Lee Sparta, has reeled in over 370,000 views on Youtube in the month since its release. The hard-hitting single declares Moyann's preference for 'gangsters', and she leaves no doubt about her fondness for 'bad boys' with the controversial statement "mi want a gunman inna mi middle'.
The Dancehall vixen flaunts her charisma and feisty attitude with no apology on the single, deejaying: foot pon shoulder, so mi cock it up/nah act shy, beat up the p—-y, send it up/what a damn sight, this ya p—y full ah luck.
"People are just going crazy over the song because it pushes the argument that women love bad boys and that is causing a big debate on social media. Some people are upset because mi say 'mi want a gunman inna mi middle' but mi love my men wild, dangerous, mysterious or unavailable..bad boys are intriguing and sexy," Moyann said, laughing.
The dancehall banger is easily one of the most popular songs on Tik Tok, inspiring over 38,000 videos of people from all walks of life doing trendy dances to the song.
"I am just pleased how the streets and social media are responding to the song, crazy videos mi see ah pop up every hour on Tik Tok, it really ah blow up," she said.
With clever lyrics that could be flirtatious and playful or forceful and proud, Moyann has cultivated a highly polished and confident sound that often lingers on RnB style flows mixed with hardcore dancehall rhythms.
The No Limit singer recently performed at Sandz, wowing the audience in a powerful performance alongside Aidonia, Shaggy, and Teejay. She also represented well with a much-talked about onstage stint at a show dubbed 'Dons and Divas' alongside Valiant, that went viral on Instagram. She was also one of the standout acts on Sting 2022 at Plantation Cove in St. Ann.
She has a standout year in 2022 with songs such as How We a Live featuring Jahshii which racked up 3.3 million views on Youtube and 'Please Yu Girl' which reeled in over 400,000 views since its release three months ago.
Fierce and in charge, Moyann took the music industry by storm upon her entry in 2018, and has since contributed a supply of sizzling releases that dominated trending lists on Youtube.
Moyann, whose full name is Moyann Montique, grew up in Montego Bay, where she attended Irwin High before graduating. While studying logistics at Caribbean Maritime University in Kingston, she decided to follow her musical passion during her sophomore year. Her parents supported her decision.
She eventually reached out to DJ Frass in 2017, sending him a demo. He eventually got back to her in 2018, and she inked a recording deal with DJ Frass Records.
She burst on the scene with an attention-grabbing gem of a song, Netflixxx and Chill, and continued to hone her craft. She started the year 2020 with a hot collaboration with Teejay aka "Uptop Boss" named Bruck Pocket Man which amassed over 1.2 Million views on YouTube.
She has previously done collabs with Jahmiel (Don't Wanna Lose You) and Shenseaa (No Limit), the latter of which was added to the HOT 97 mix show in May 2021. The No Limit single was also added on the BBC1Xtra playlist and her latest single, Vanilla, has racked up millions of views since its Summer release.
She's also known for Backseat, the audio version of which had over 2 million views since its release.