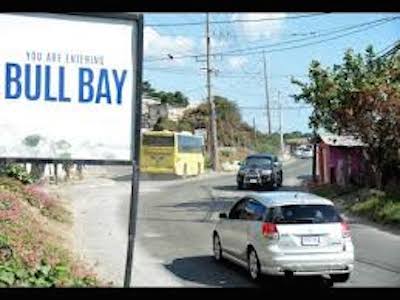 The entire communities of Seven Miles and Eight Miles in Bull Bay on the St Andrew/St Thomas border have been placed under quarantine, initially for two weeks, as Jamaica ramps up efforts to contain the spread of the deadly novel coronavirus (COVID-19).
The island's authorities are also adopting precautionary quarantine procedures in response to a new virus that has sickened ten people and triggered fear across the island.
The development came as Prime Minister Andrew Holness declared the entire island a disaster area. He made the announcement during a press conference at Jamaica House on Friday evening.
Members of the Jamaica Defence Force and the Jamaica Constabulary Force have been deployed to the area to restrict movement into and out of the communities.
There are ten confirmed cases of COVID-19 in Jamaica including 'patient zero', the first confirmed case on the island, who spent time in the Bull Bay communities.
Residents have to line up to leave the community as individual members are checked with temperature guns. The process has added a 30 minute commute time to their jobs. It is a necessary inconvenience as fear spread in the wake of news that a woman who returned from the United Kingdom for a funeral and who was staying in the area is the island's first confirmed case of the coronavirus. 
Some however, are pissed off because they have to adjust to a new reality.

"Right now, we under heavy quarantine, we have to join line to leave the community and de soldier dem a scan we fi fever. We feel like refugees inna we own country," one resident said.
"Supplies are running out is a little shop mi go to get the wipes. The virus a spread, the woman live inna one big yard, and she come for a funeral and the kids who were around her gone to school. The family irresponsible bad because for over a week, dem know she sick, and dem never want to call up no excitement pon the family. And because of that, other people ah walk and spread it before the quarantine, mi can't afford to get sick, nuff people ah get scared," a man said.
Jamaica's Ministry of Health and Wellness confirmed on Tuesday the island nation's first imported case of the coronavirus, in its capital city of Kingston. The infected individual is a Jamaican female who had "travelled from the United Kingdom", the ministry said in a statement.
Christopher Tufton, Minister of Health, revealed that the patient had received medical care on March 9 and has been isolated ever since based on her travel history and symptoms. She was believed to have caught the disease while overseas and the diagnosis was confirmed on Tuesday.
The country has informed the patient and her family members, and officials are working to identify people who may have been exposed and expanding its public health measures, Tufton said.