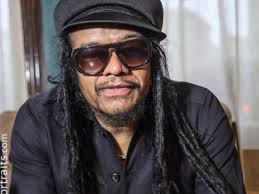 British reggae vocalist Maxi Priest may be hoping that the third time's the charm when he competes for a Reggae Grammy album for the third time in his illustrious career at this year's Grammy Awards.
"I was pleasantly surprised at the nomination, and of course, appreciative. If Toots wins, all of us wins, if I win, all of us win cause ah all ah we Grammy. The road is rough , we all have to realize and recognize that we have a long way to go to continue the tradition of camaraderie that the old folks had in the previous generations," he said.
This is Maxi Priest's third nomination. In 1994, Priest earned his first Best Reggae Album Grammy nomination for Fe Real. Three years later, Man with the Fun also earned a nomination.
The winner of this year's Reggae Grammy will be revealed during the 2021 Grammy Awards ceremony which will take place on March 14th. Maxi Priest competes with the likes of Skip Marley ( Higher Place), Buju Banton ( Upside Down 2020), The Wailers ( One World) and Toots and the Maytals ( Got to Be Tough).

The ceremony had been postponed, due to concerns about the spread of the coronavirus. In most years, the awards ceremony takes place at the Staples Center in Los Angeles, which is also where the 2021 ceremony was scheduled to take place.
This is Maxi Priest's first solo album of new material since 2014's Easy to Love. The album peaked at number two on the Billboard Reggae Albums chart in October 2019. It features collaborations with Shaggy, Bounty Killer and Che Sav, Noah Powa, Inner Circle, and rhythm and blues singers Estelle and Anthony Hamilton.
The 14-track album was released via S- Curve / BMG. He teamed up with longtime friend and dancehall star Shaggy, longtime producer Carlton "Bubblers" Ogilvie, Shane Hoosang , Dwayne Shippy, Livingston Brown and The Ranch Crew to create a masterpiece.
"These are the kind of songs you get lost in regardless of the mood," the artiste who is of Jamaican parentage said.
Maxi Priest had been using the time off provided by the global pandemic to "take a chill pill", a welcome respite for a man who has toured consistently for over 20 years.
"God moves in mysterious ways, sometimes he says 'chill out'. Before COVID, everything was just moving fast, especially with music, and with life in general. You just don't stop to smell the roses. You don't get to ask how is Grandfather Joe, or Aunt Florence cause there is so much going on. But now, with the pandemic, I have been able to check myself," he said.
Maxi Priest has been in Jamaica for the last couple of months and he has used the hiatus to make a lot of new music, a new album called United State of Mind, shoot videos and shoot a Netflix documentary.
"There are so many things to do with the Internet, so I have been able to focus on business, to understand the things I have accumulated, and sort out my house. Black people are resilient, we will get through this, we have always had curve balls thrown at us, especially in England, and this is just another curve ball," he said.
Asked if he had spoken to Shabba Ranks about the death of his mother Mama Christie, he said : "I put up a post to send prayers and offer my condolences. I haven't been able to talk to him, but I've lost both parents, and I know it's a strange time, a self-reflecting time. There's not a lot one can say, that connection with one's mom, no one can plug into that…so because I know that, when one loses a parent, all you can do is let people know you're there for them, but leave them to their space".
Maxi Priest famously teamed up with Shabba Ranks for 'House Call', one of the top tracks on Shabba's Grammy-winning 1991 album, As Raw As Ever. The song peaked at #4 on the Billboard Hot R & B/Hip hop songs chart.
Priest's musical career began with him singing on the South London reggae soundsystem Saxon Studio International, after which some independent single releases followed. His first major album, Maxi (titled Maxi Priest in the US and Canada), was released in 1988, and, along with his cover of Cat Stevens' "Wild World", established him as one of the top British reggae singers.
He is one of only two British reggae acts (along with UB40) to have an American Billboard number one: "Close to You" in 1990. A duet with Roberta Flack, "Set the Night to Music", reached the American Top Ten in 1991. His duet with Shaggy in 1996, "That Girl", was also a hit in the United States, peaking at number twenty.
In the latter half of his recording career, Priest has favoured working alongside other artists, both established and up-and-coming. He has worked with Sly and Robbie, Shaggy, Beres Hammond, Jazzie B, Apache Indian, Roberta Flack, Shurwayne Winchester, Shabba Ranks and Lee Ritenour.