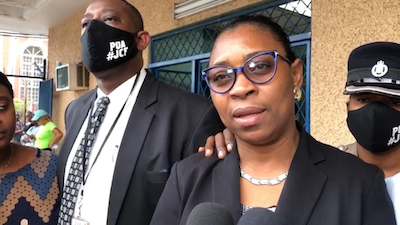 On the day that he was expected to be released from hospital, Superintendent of Police Leon Clunis suddenly passed away, shocking members of the Police High Command as well as his family members.
"He was going to be released today, " a family member told one876editor Claude Mills
He died two weeks after he had been injured in a violent ambush engineered by gunmen on the outskirts of Spanish Town that had already claimed two of his colleagues.
The senior policeman had been hospitalised since.
Efforts to get a comment from family members proved futile. Members of the Police High Command are currently at the hospital and could not be reached for further comment.
The public appeared to be shocked at the senior officer's sudden passing as he had reportedly been in good spirits this week, and had even given an interview to media personnel over a week ago.
The June 12th attack which was carried out by men carrying high powered weapons previously claimed the lives of Detective Corporal Dane Biggs and Constable Decardo Hylton..
The man said to be behind the Horizon Park attack, 39 year old Damion Hamilton, was shot dead in Cooreville Gardens, St Andrew, hours after the incident.
There was a groundswell of support from the public in the wake of the shooting as "evidenced by the swift sharing of information by the public which led to the coordinated actions of the police following the Horizon Park incident".
Last week Monday had been designated a Day of Mourning in the Jamaica Constabulary Force for Constable Decardo Hylton and Corporal Dane Biggs who were killed in Horizon Park, St Catherine last week Friday.